updates
10 copies back on sale... until it is sold out !
Posted in about the project
Monday, 06 August 2012 23:02
When we decided to visit Thaïland and Bali, it was to see if another life was possible... And it is ! So, seeing the Helevetica wood letters and other projects started with craftmans there, we deceide to do it, living there for some months, or more... We have now to figure out all the "technical things", but life is too short to wait !!!

As you can imagine, there is a lot fo things to do... The idea of graphic exchange was to do real exchange with other designers, so all these books, letterheads, borchures, etc... Added of the things that I collect and all the stuffs I have designed, it is a lot of boxes...

I kept around 15 copies of the letterpress calendar, and seeing that I get request of people who want one almost everyday since it is sold out, I deceide to let 10 copies go and keep only 5 for me ;) So, the www.letterpress-calendar.com web site is open again, until these 10 copies are sold... Some new pictures, now we are in august... And sorry, but the 2011 copy is out of stock, I have to keep some for me ;)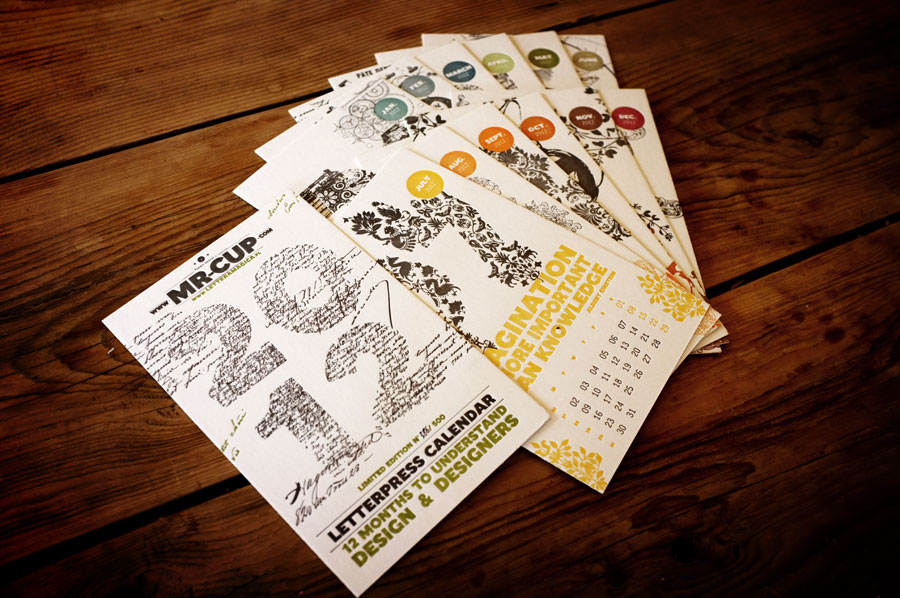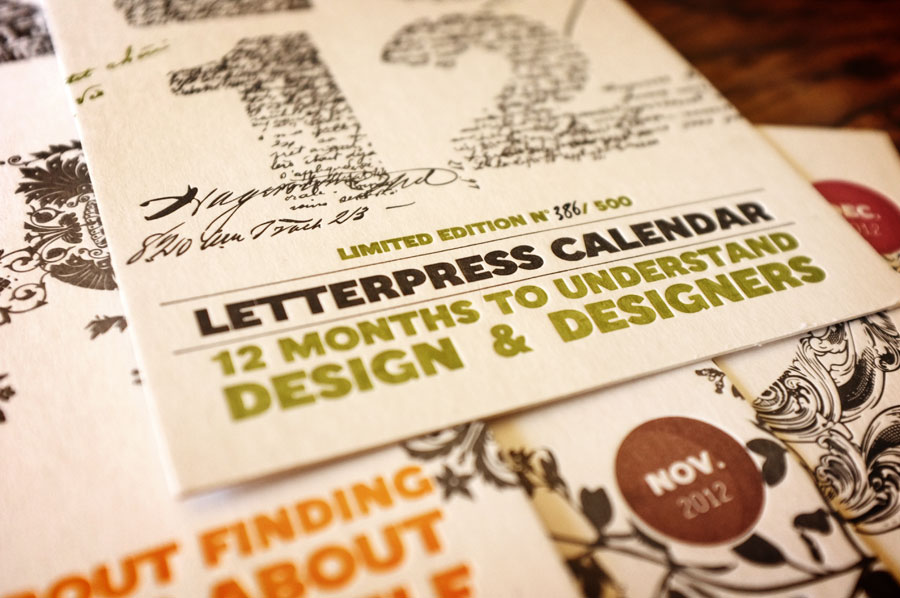 Harmonie intérieurer stickers sale
Posted in Other projects
Saturday, 21 January 2012 00:00
While I order my stuffs, I figure out I have several stickers in stock. They are "mistakes" ! People order the size and color they want, and sometime we do them wrong... so we keep them ! These stickers are now available at www.harmonie-interieure.com at a special size, and we offer the post costs ! 1 copy of each is available !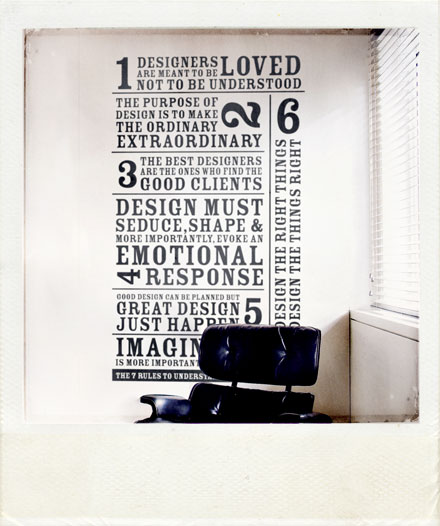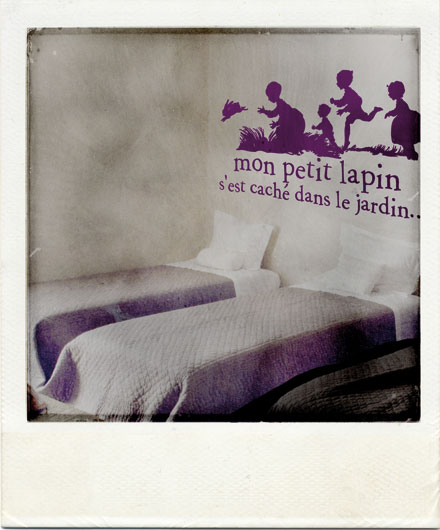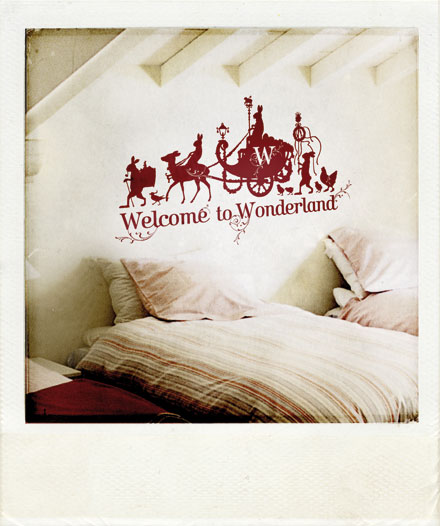 www.harmonie-interieure.com/sale2012
Posted in about the project
Wednesday, 11 January 2012 00:00
It is almost 2:15 am, I am tired, but Marek send me the pictures of the new coasters, so I can't wait to share them with you...it is a 4 coasters set, round this time, no picture of the "1" as it is not ready... Each coasters is printed with a warm grey, from clear to darker...
My first idea was to send them for the pre-orders of the calendar, but as they werre longer to produce, it would have over delay the calendar delivery... Instead I sent the FB coasters & D&B card, BUT, if you order the calendar before december 25th and want them, please send me and email with your order number and delivery adress to get a set.
And, I will also send a set for any order done between today january 11th and next wednesday 18th (but it means you will have to wait a little as I do not have them yet...).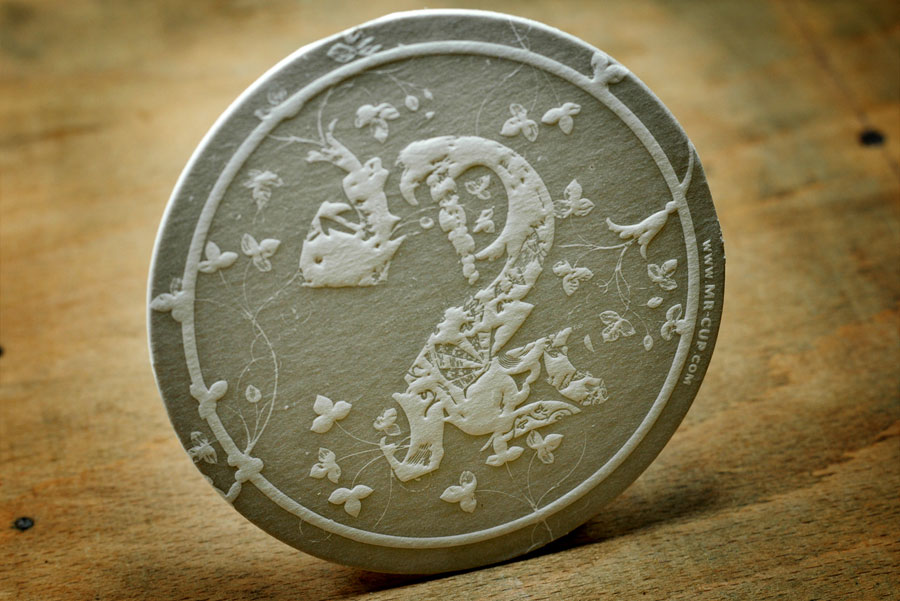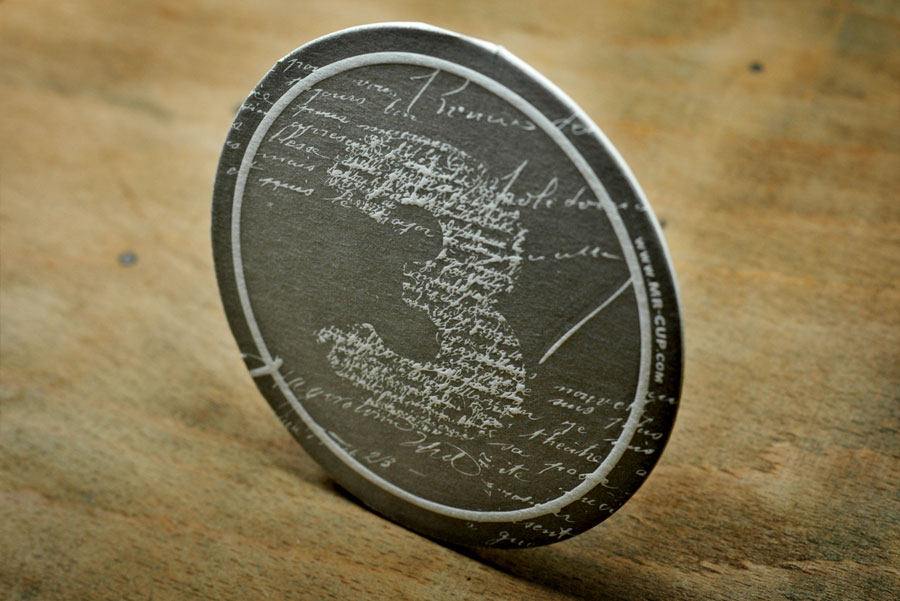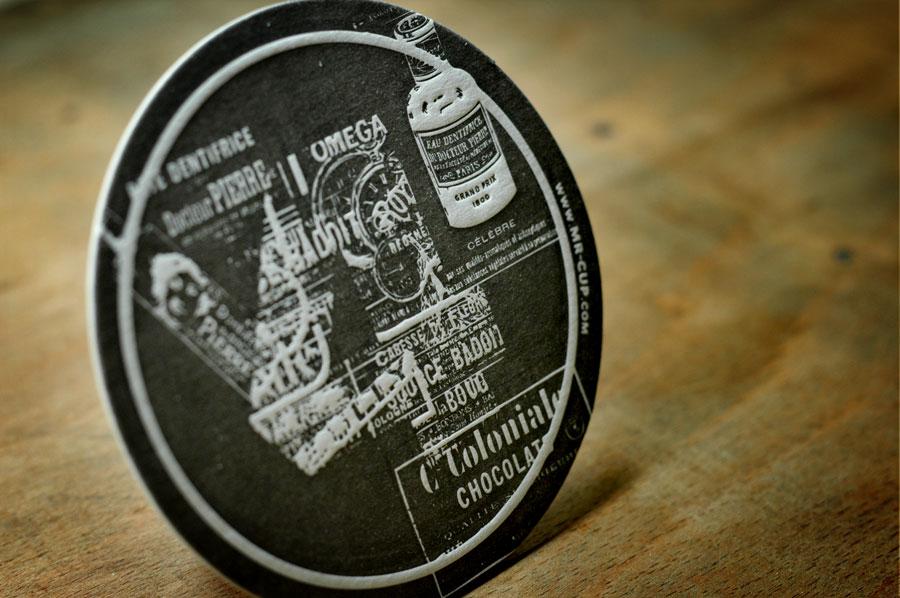 I want, for these coasters, to have the numbers and design to stand out by printing the background and have the design in white... And I am really please of the result (even if I am impatient to have them in hands).

A lot of people asked me about the wodden stamp... Have to said I ask a stamp maker in Nîmes to do it, and it is not any online service... And I am not sure this guy could sell one to you ;) ... The craziest is that he has a letterpress printer in his small shop and told me he does not use it to print, it is too complicate ! I show him the calendar and his reaction was "oh my god, it must me so long to print"... I guess he made more money with car licence plates...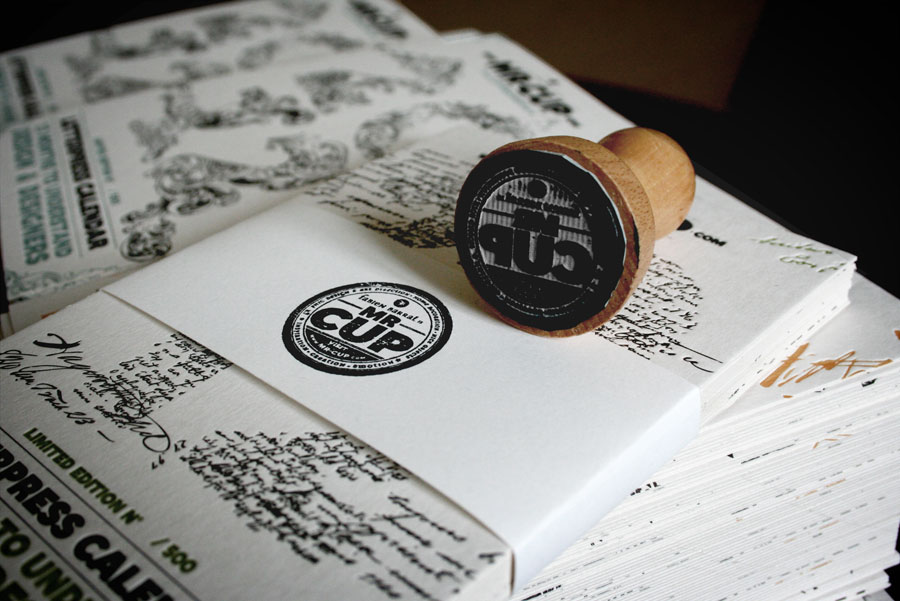 I want to thanks all the nice articles about the project :
- Peleg top (I talk about graphic language, he talk about marketing language, but at the end, we speak the same language ;)
- Pepernstitch to have put it as daily pick, calendar selection, and to highlight several Harmonie interieure products these past weeks,
- beautiful hello blog, et pour les français, ce super post sur le carnet et la selection des calendriers de la cuisine du graphiste.







Posted in about the project
Thursday, 22 December 2011 00:00
Today, the calendars arrive ! 500 copies is heavy ! It is an unique feelingto finaly see in real what I have in mind... I guess it is what I prefer in my designer life ;) But, with the help of Frédérique (my wife) we have to quickly focus on preparing the packages... Even if they won't be under the christmas tree on saturday, we want to send them as soon as we can...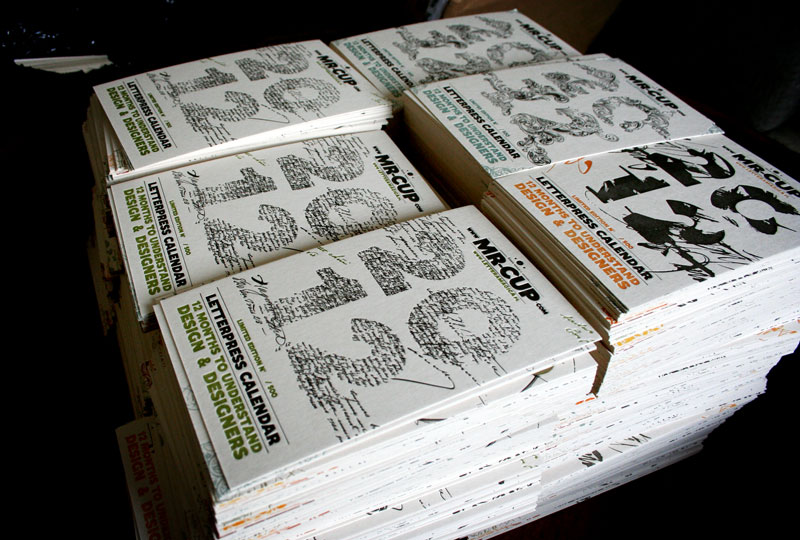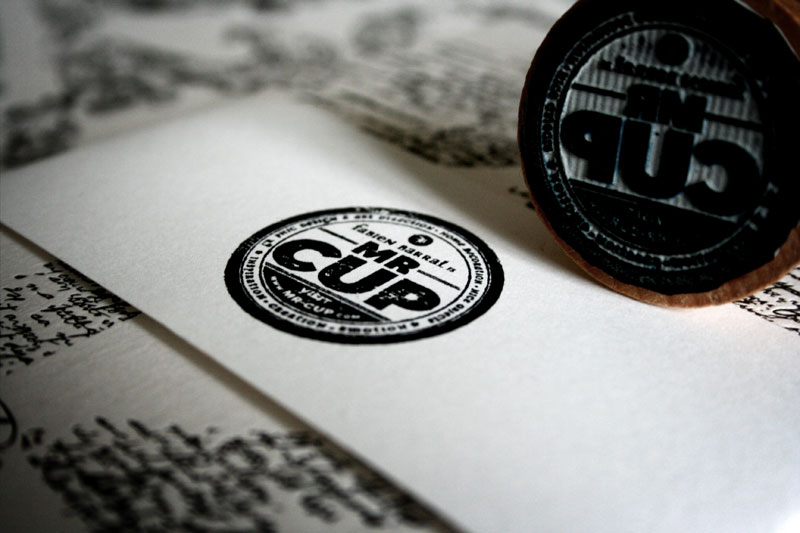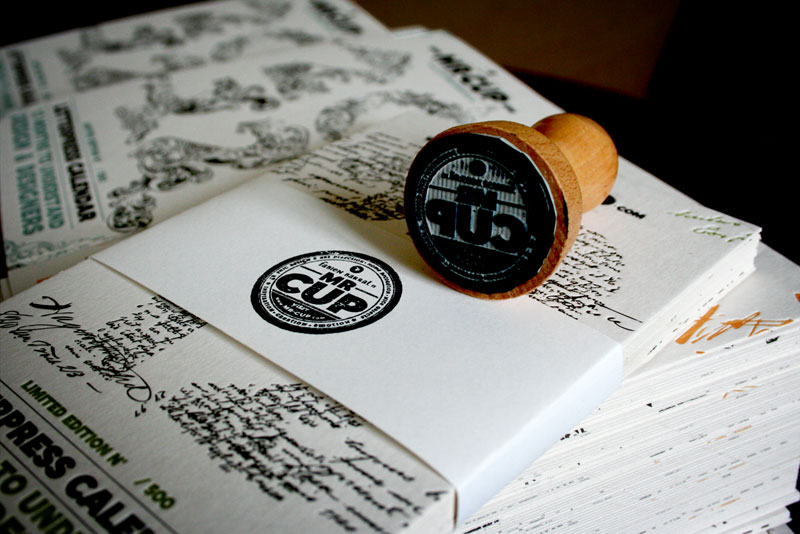 So, for each order done before christmas, we will send an FB coaster (with split fountain print, so they are all different) + the set of designers stickers + one card from the D&B collection. These cards werre done to promote to D&B collection at Maison et Objets few months ago, and they will be send randomly, as well as the 3 covers design. We want to send more, but it was so hard work for the calendar themselves...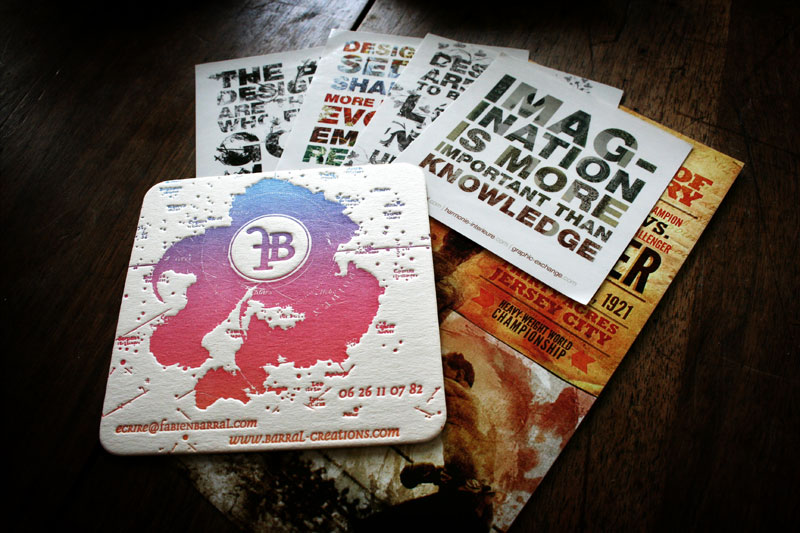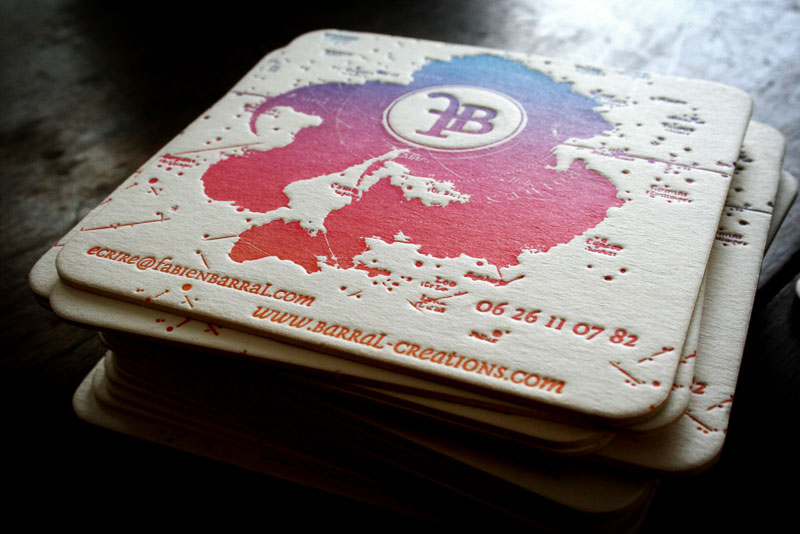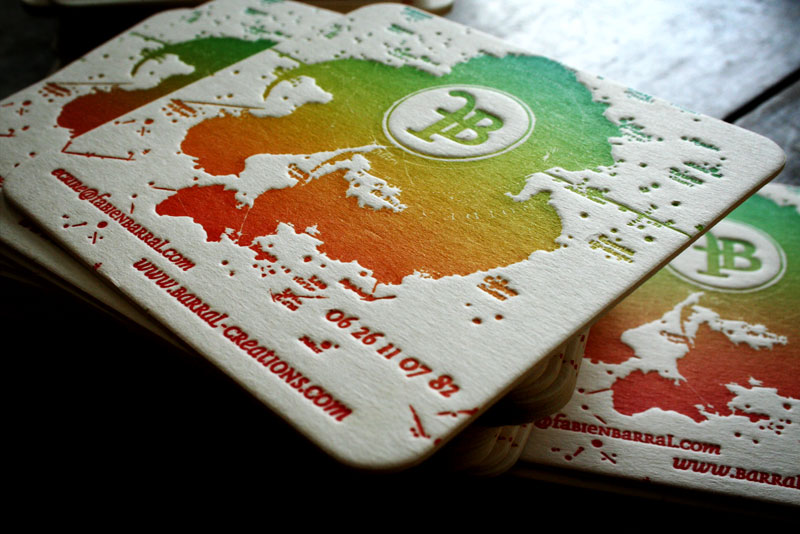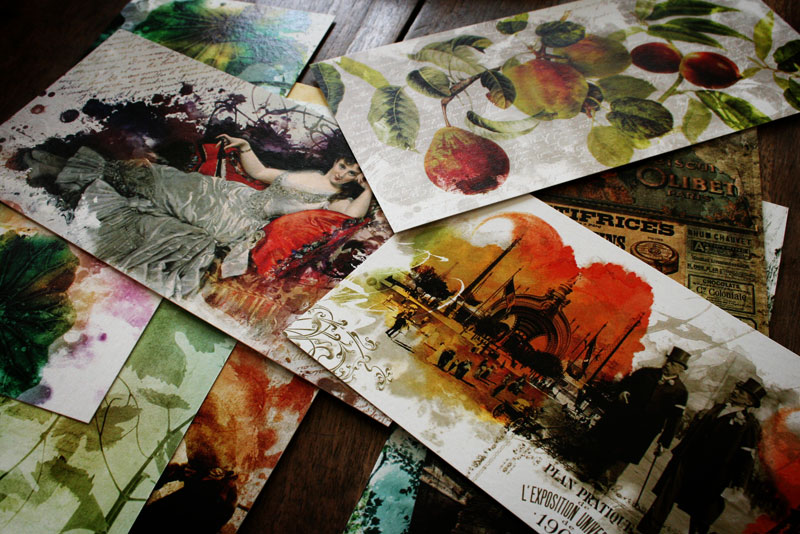 It took me some time to number them too, while Frédérique put the white strip with Mr Cup stamp... But we are so pleased of it... Thanks a lot to all the people who already order it and too all who gonna order it now ;)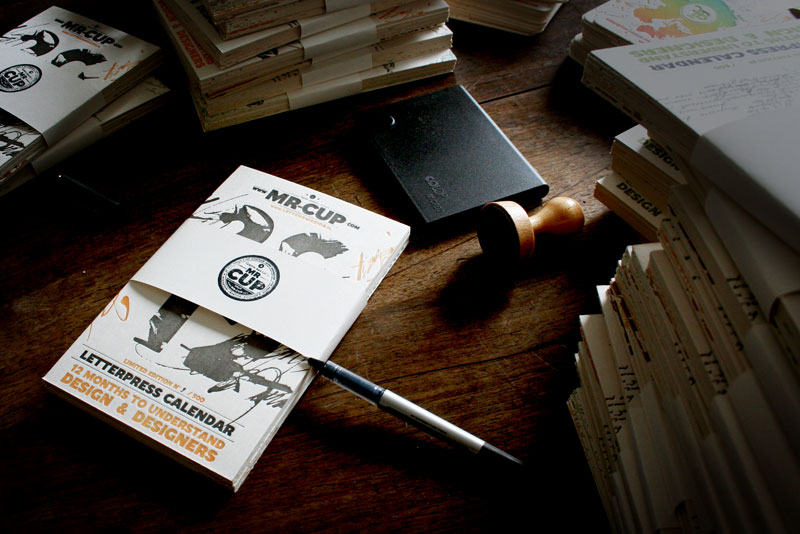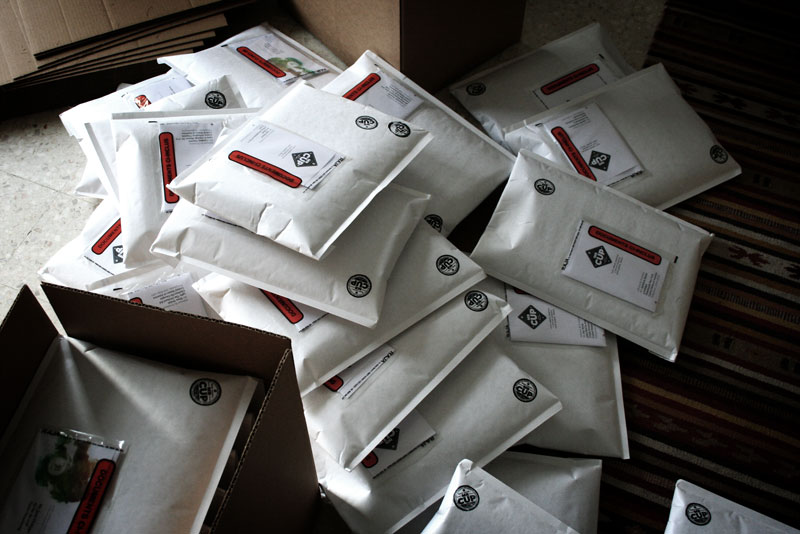 Posted in about the project
Monday, 19 December 2011 00:00
The good news : the calendars are now all printed... and have been posted... they are travelling from Poland to France...
The bad news : they are travelling from Poland to France... and the tracking number of the packages only tell me that... no precise idea if they will arrive today, tomorrow or wednesday... Of course, chances to have them before christmas are decreasing considerably... I will email all the buyers about this situation later today.
Here come june... based on an old sky & stars map...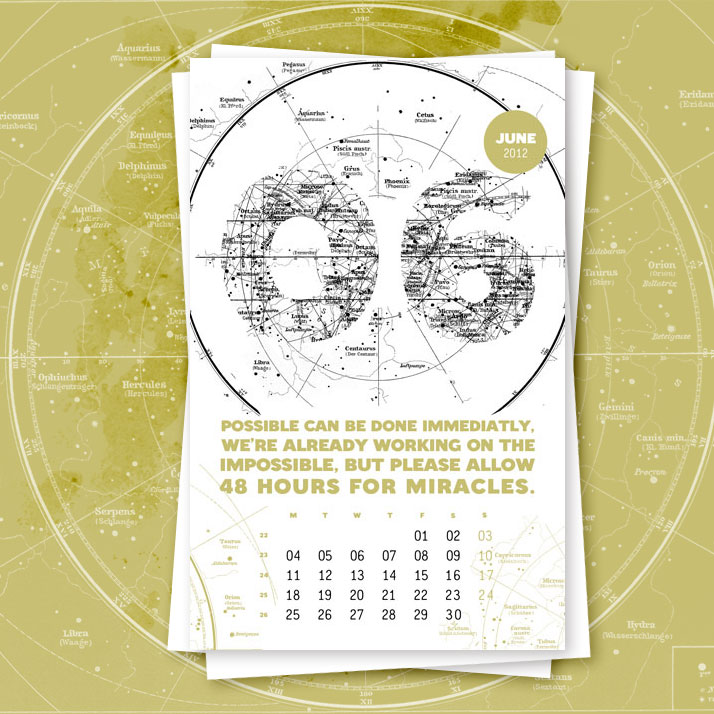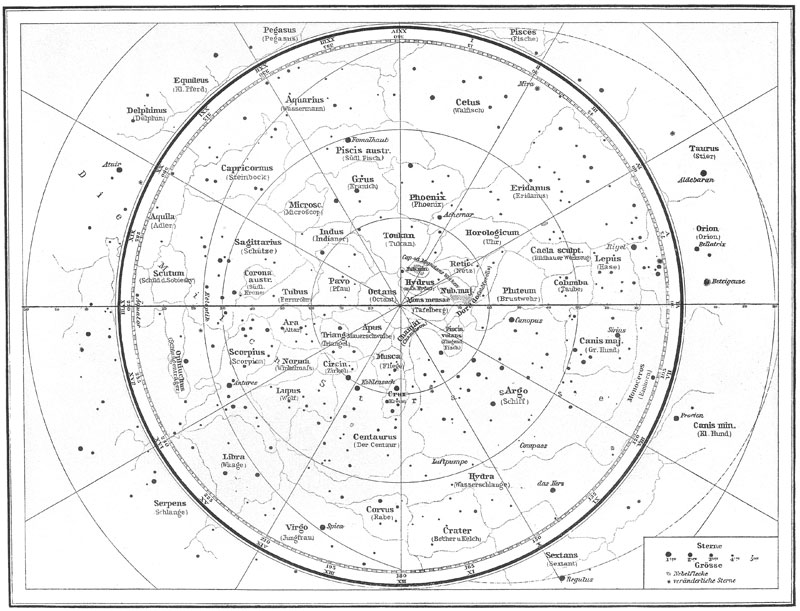 Posted in about the project
Thursday, 08 December 2011 23:47
Marek send me these amazing images, I am so pleased with the result... Letterpress printing really sublimate graphic design creation... I am so please to feel the same after several projects done with this process...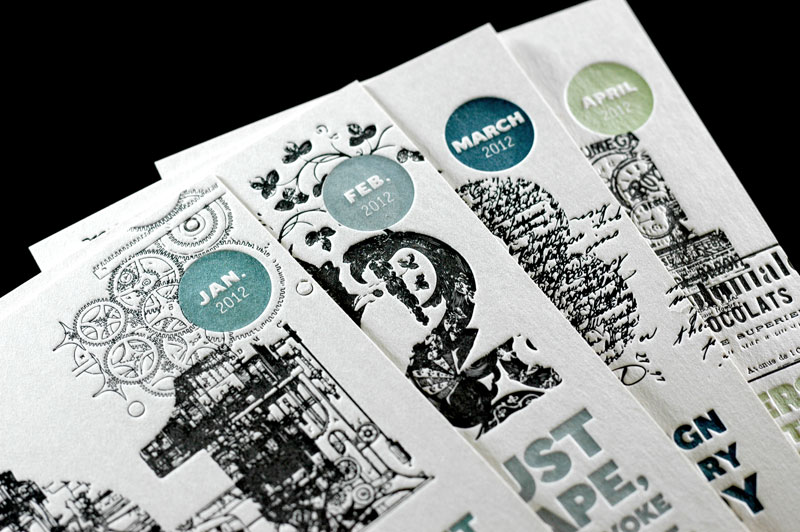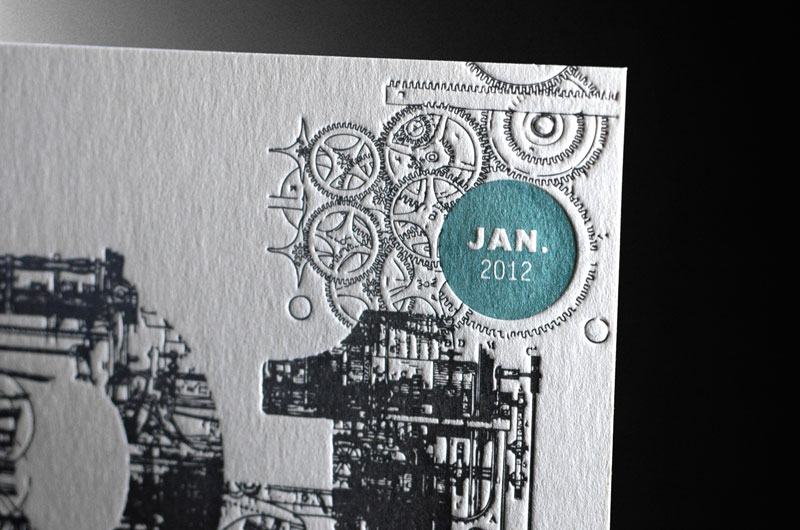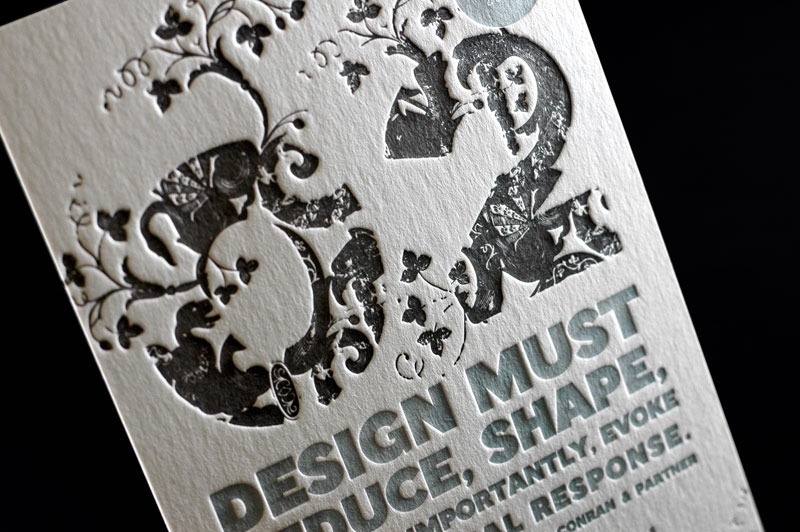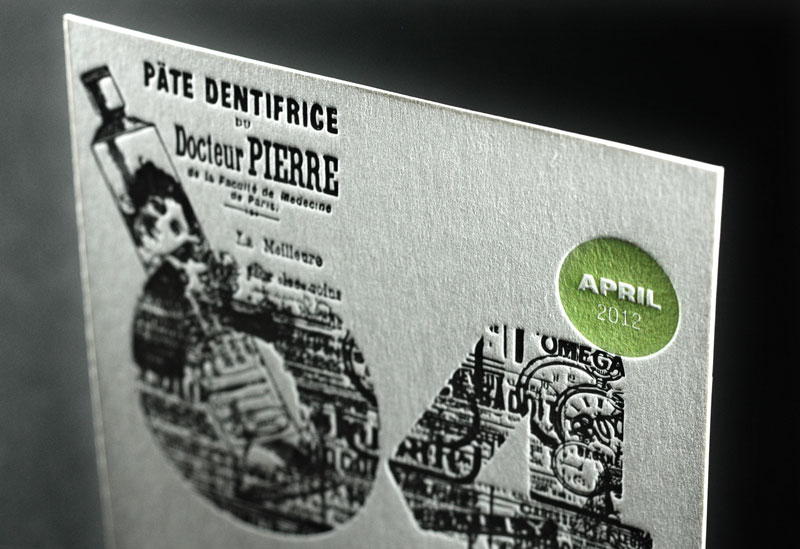 I want to propose to all graphic exchange readers a special dicount for the next 3 days only. Use the coupon code "lpresscal2012" to get a discount of 6€. This offer will end on sunday 11th at midnight.

I am also please to say, if post office is on our side, the calendar should be send next week... I keep my fingers crossed...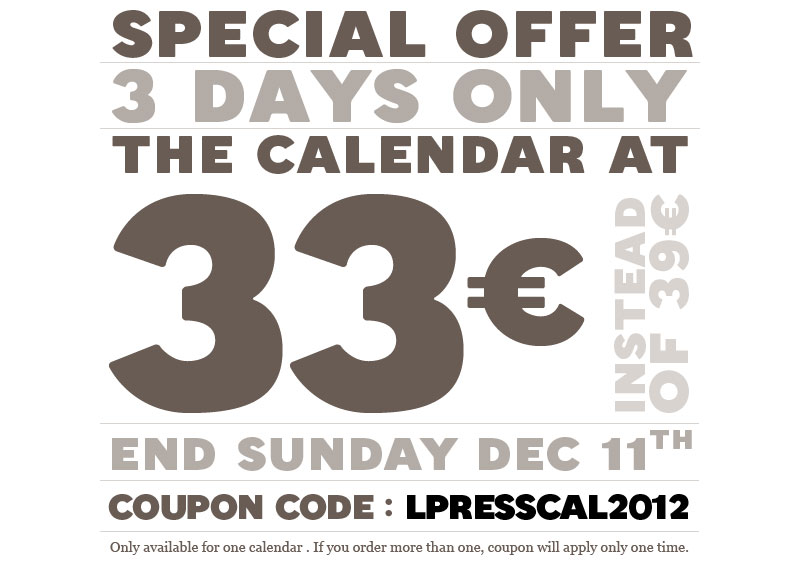 I also want to thanks :
- "A graphic life" for the small interview (but unusal questions... in french).
- Megan at the amazing Vintage oh my (she is also trying to get fund for her amazing project, will came back on it next week).
- the calendar took part of the amazing creative pro holiday gift guide
- and there is a special contest at the foxtrotter to win the Harmonie interieure wall sticker of your choice... it is in french but the rule is simple, just put a comment to the post telling which of our sticker you prefer and your color choice... good luck :)




Posted in about the project
Thursday, 08 December 2011 23:39
The 3 differents covers are now printed... I hope to be able to show you THE bonus of this edition soon, but have to wait a little myself to be sure it is possible ;)

I am also running a
special offer for people who suscribe to the MrCup mailing list, a special coupon to get a reduction on the calendar... It will runs only for this week, it means it will be close on sunday 11th at midnight.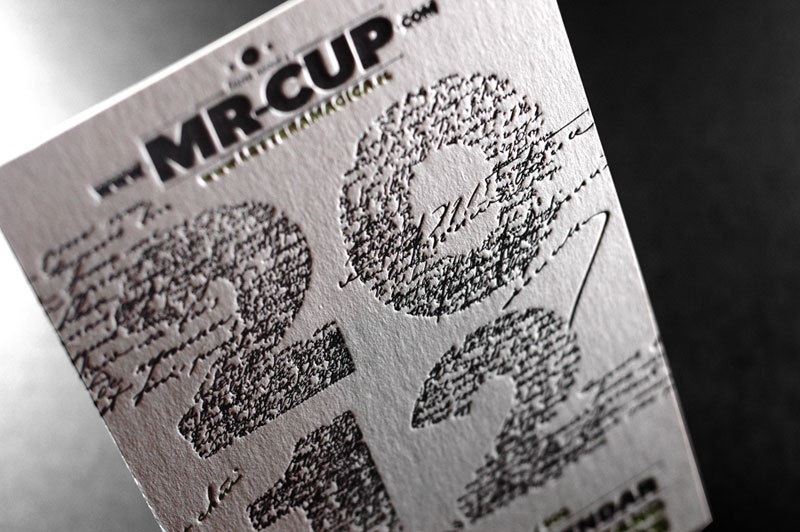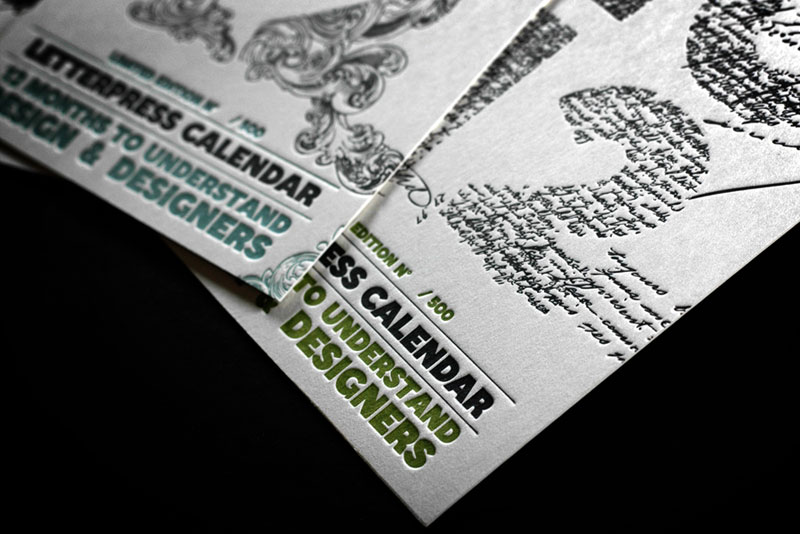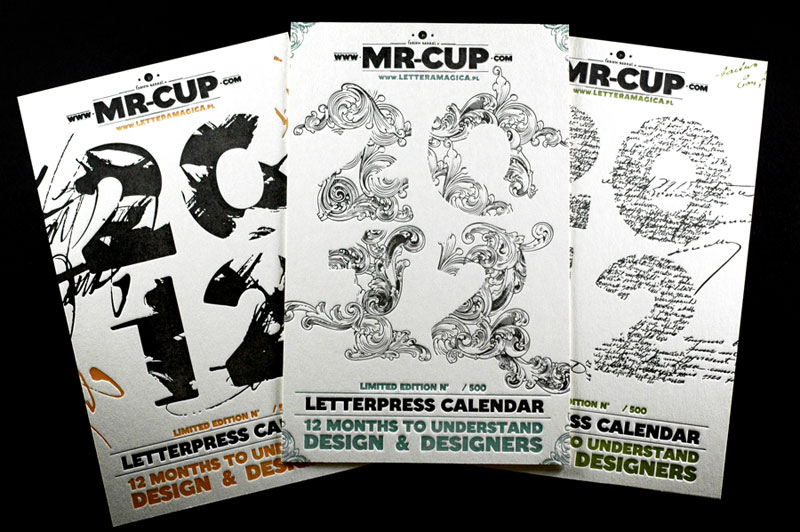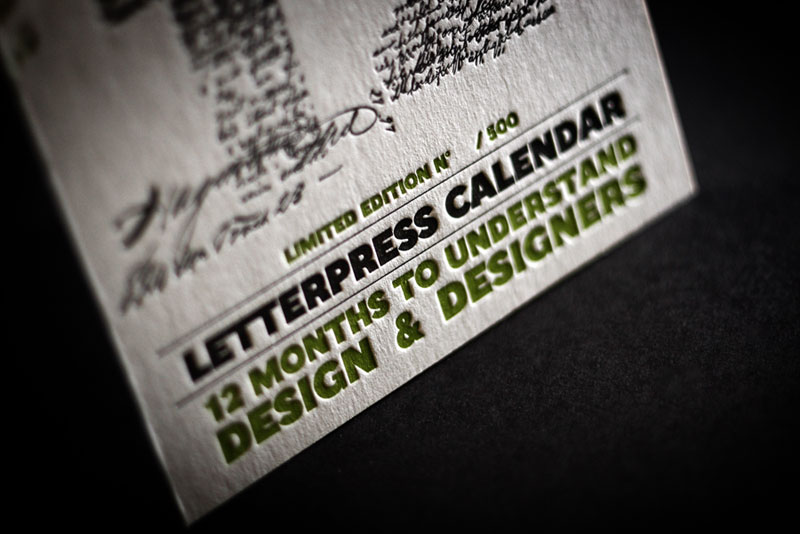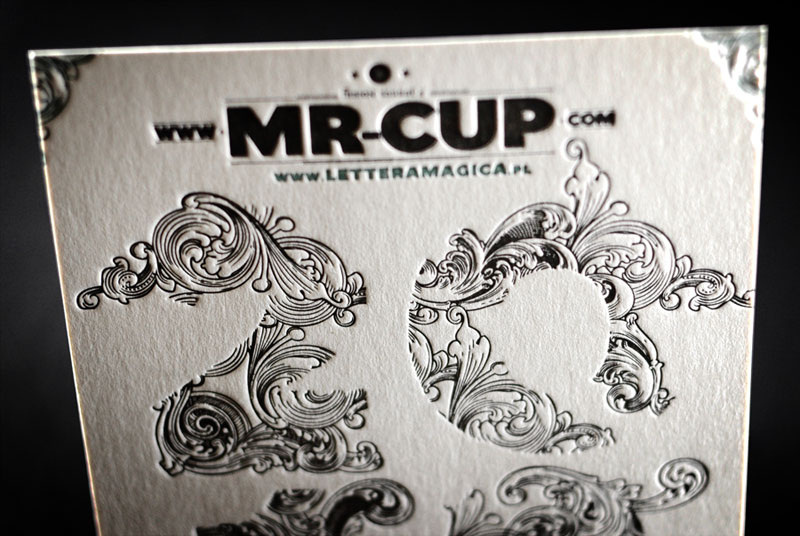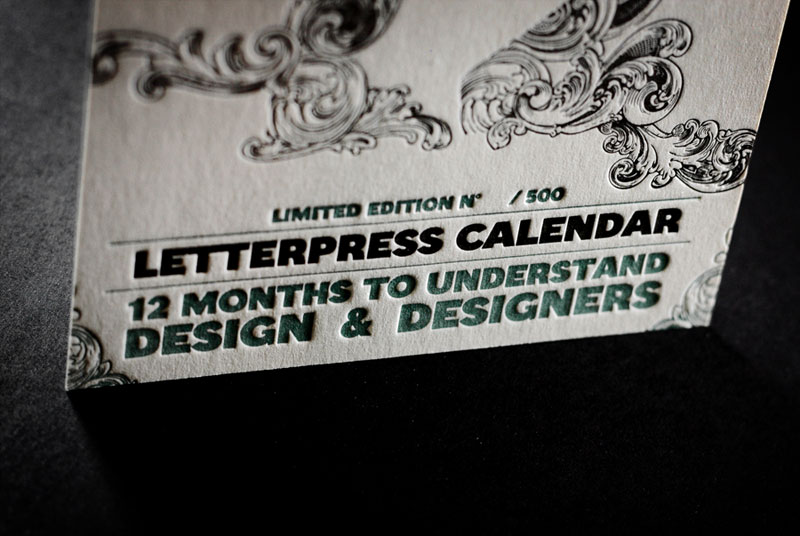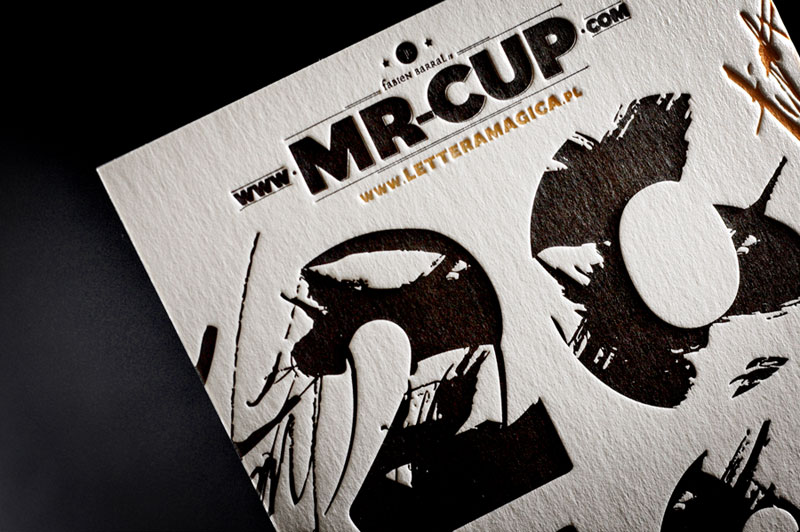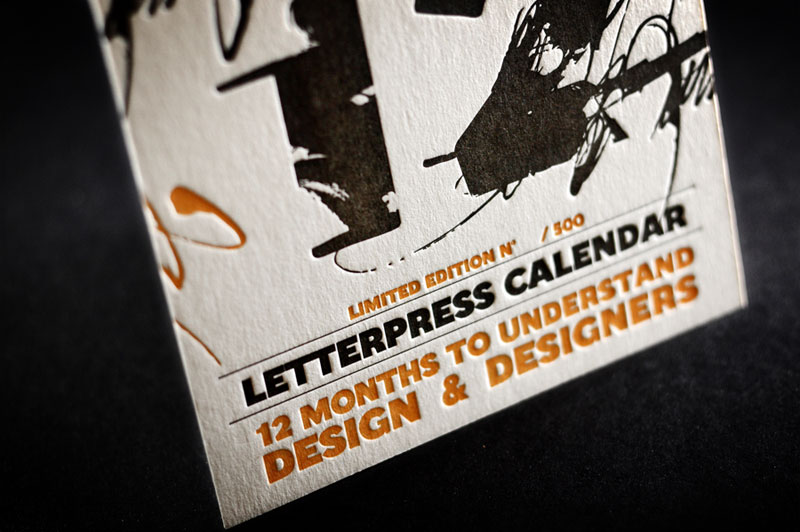 Also, if you want to offer an harmonie interiéure sticker, only order done before december 12th will be guaranted to be received before christmas seeing time needed to produce them... The same delay has to be applied if you want posters as postal services are getting crazy at the time of the year and delay are not what they promise....


Posted in about the project
Thursday, 08 December 2011 23:36
Here come may... The Sanborn Fire Insurance Maps have been published all over the design blogosphere, and as most people, I was amazed by these typographic composition... I want to use them for one of the number of this year calendar...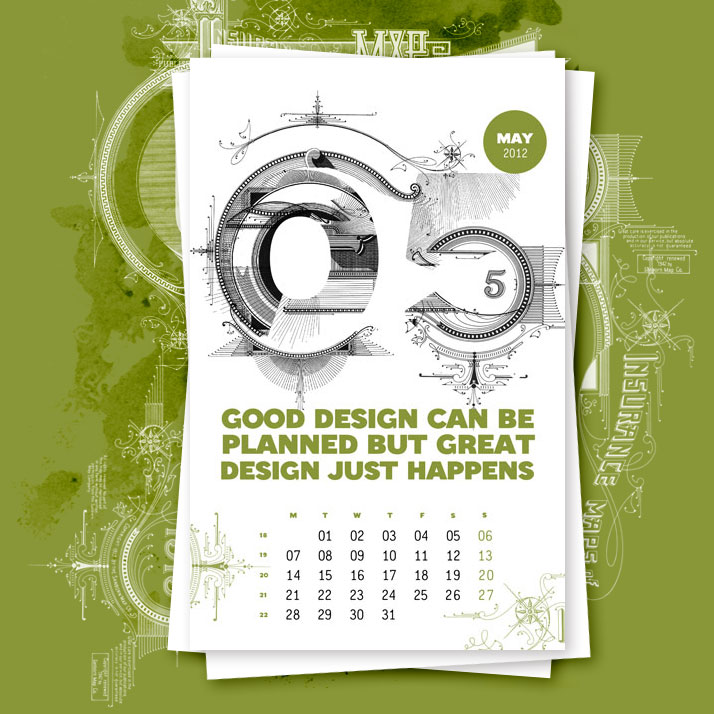 You can found much more informations and images of these maps on friends blogs : mama sauce, Annyas blog or Vintage oh my.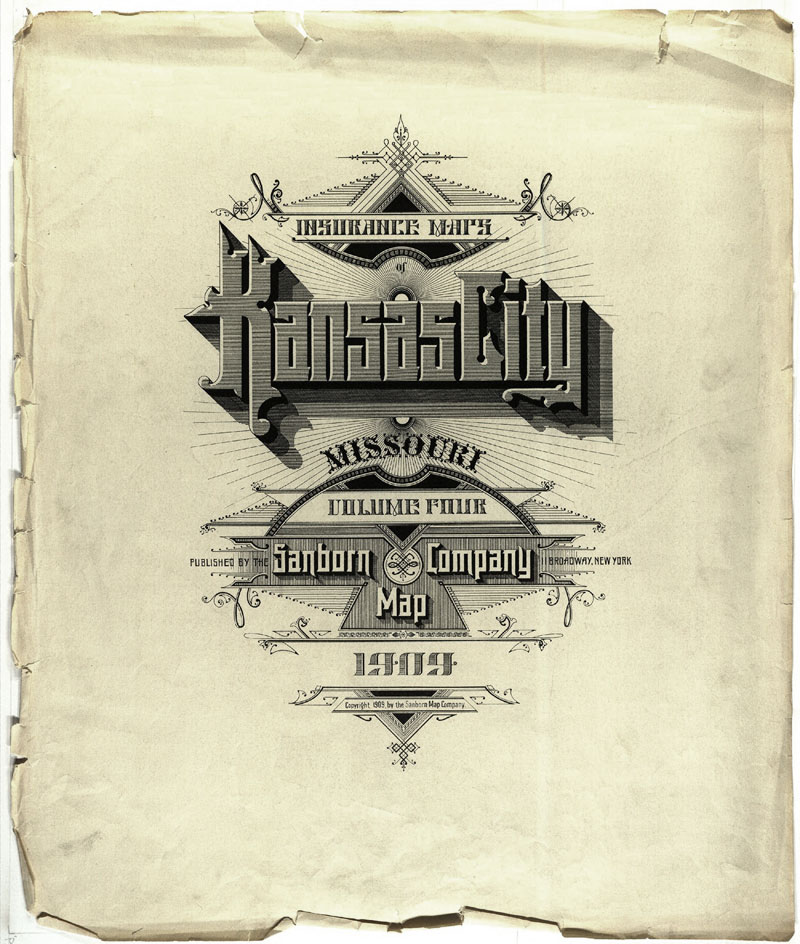 Printing, printing, printing...
Alive, alive, my creature is alive...
Posted in about the project
Saturday, 26 November 2011 00:00
Ok, I may lose my mind a little ! But I am so please to see this calendar coming to life... well to print...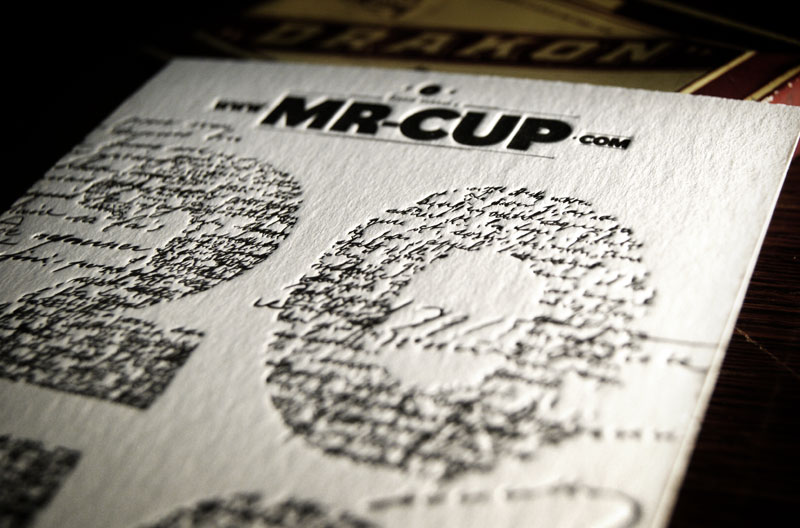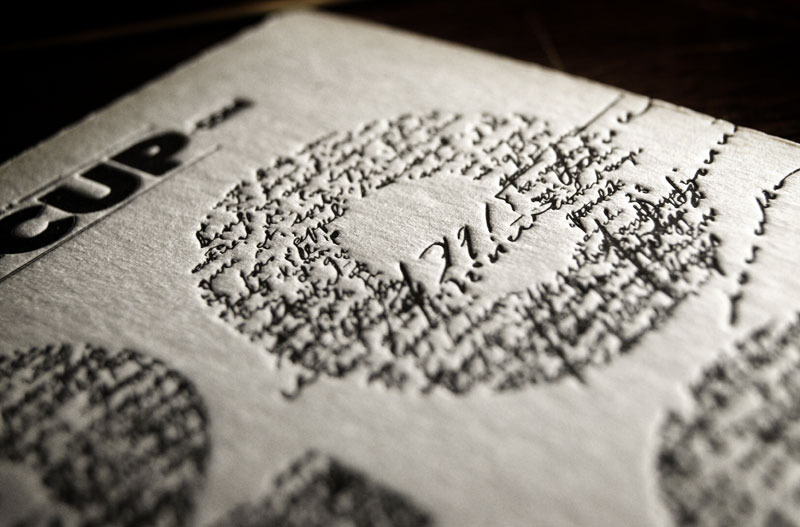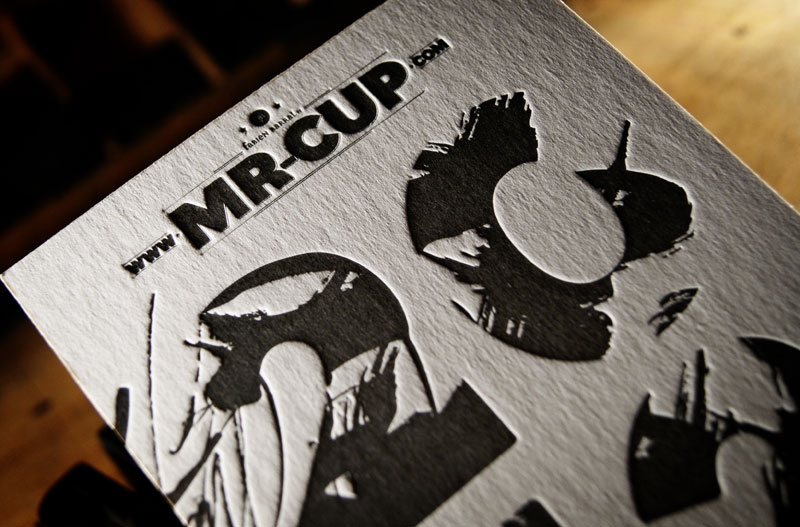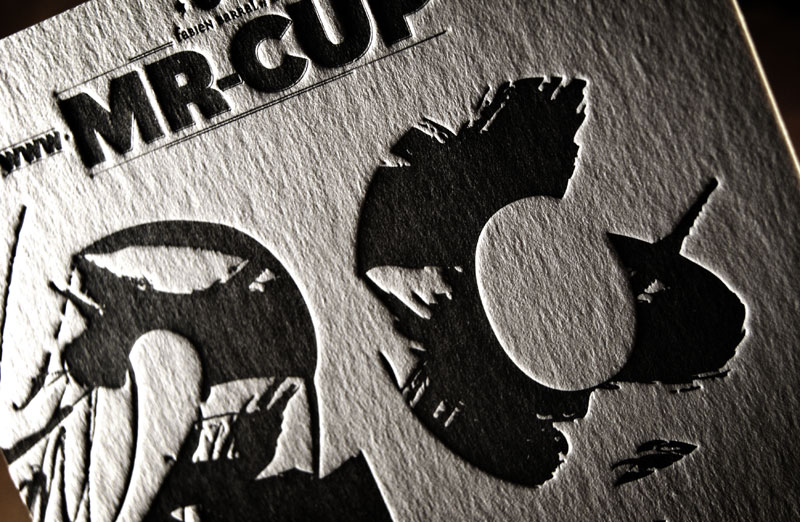 Why doing 1 cover when you can do 3 !
Posted in about the project
Tuesday, 22 November 2011 00:00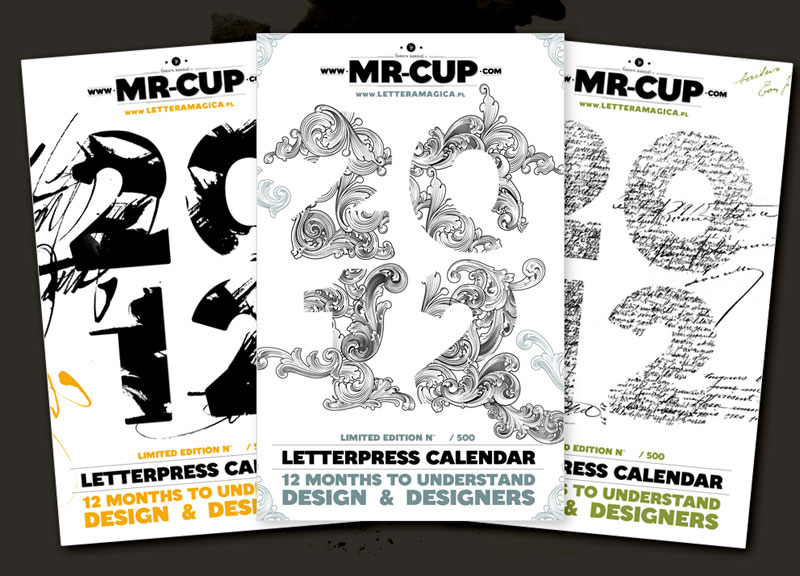 Instead of just one design, this year calendar will come with 3 different covers... 2 of them are printed at 200 copies, while the third one is limited to 100. They will be send randomly, unless you prefer one ;) The polymers are ready...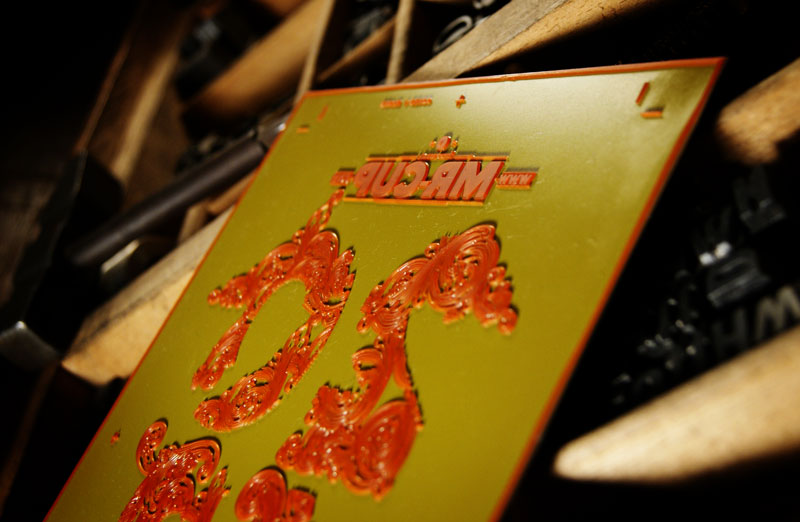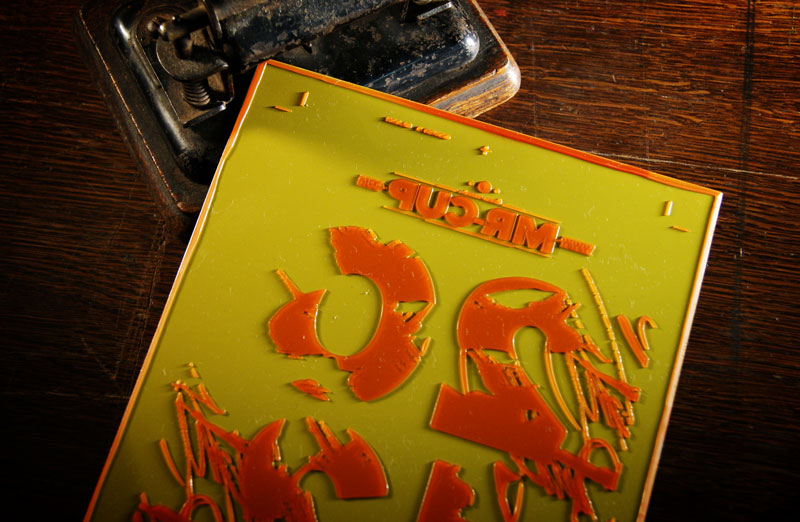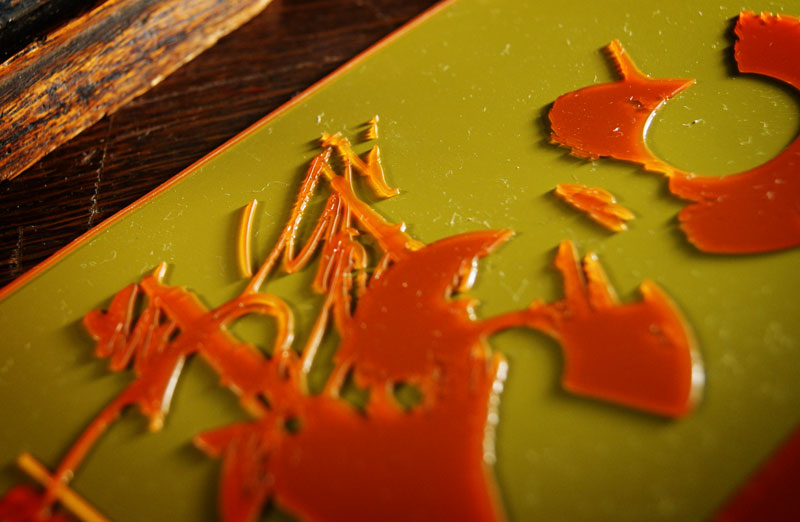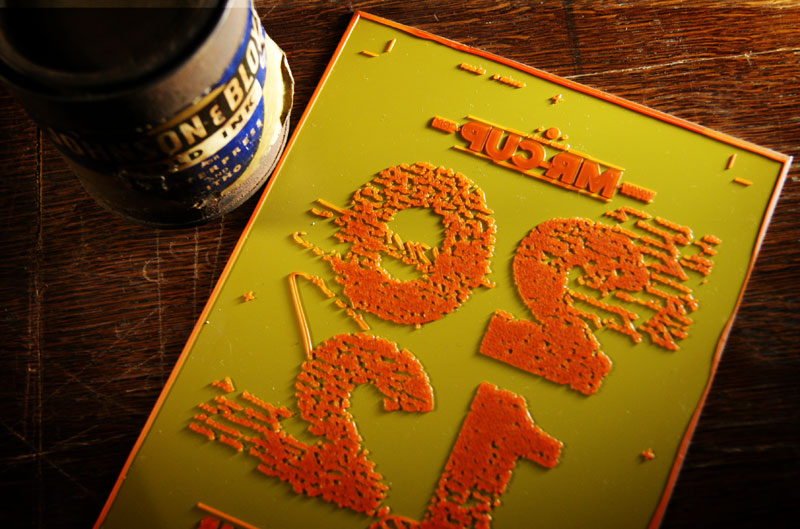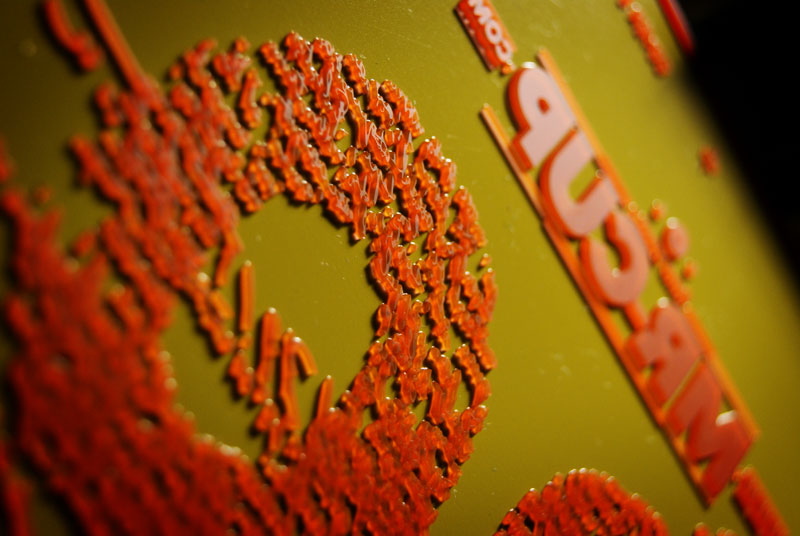 First behind the scene images
Posted in about the project
Saturday, 19 November 2011 22:38
Marek, who print the calendar, send me the first pictures of the photopolymer plates.

For whose we need more info on this, these polymers are the modern version of letterpress printing. Instead of using metal or wood blocks, water-wash photopolymer plates produce a relief printing surface, just as the ones use for stamps, and you can do anything done digitally as long as it is vectorized file.

I am pleased to see so many relief and details on these polymer which announces some great impressions ...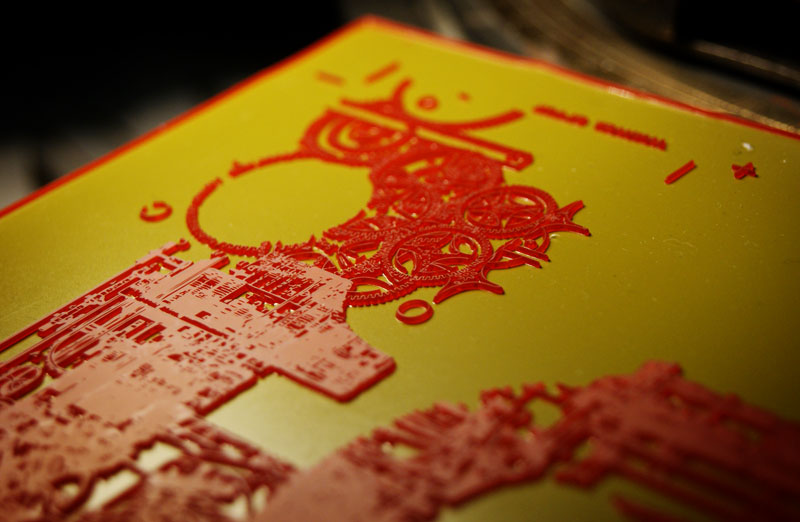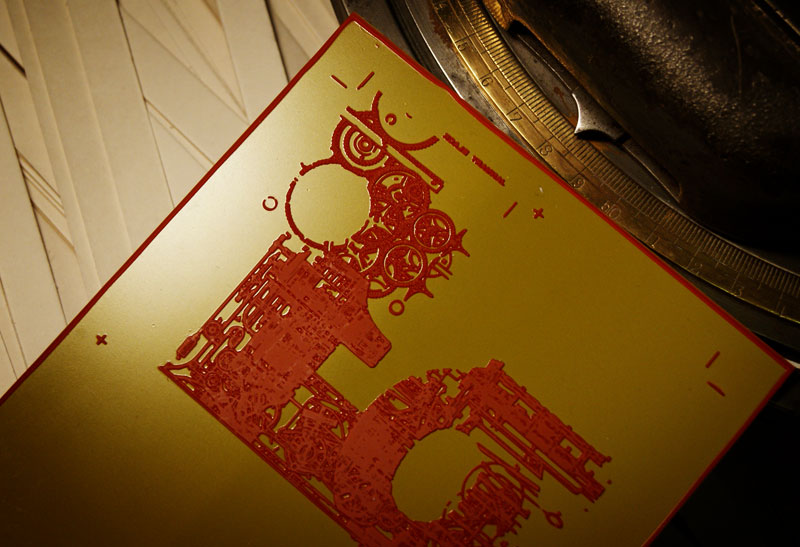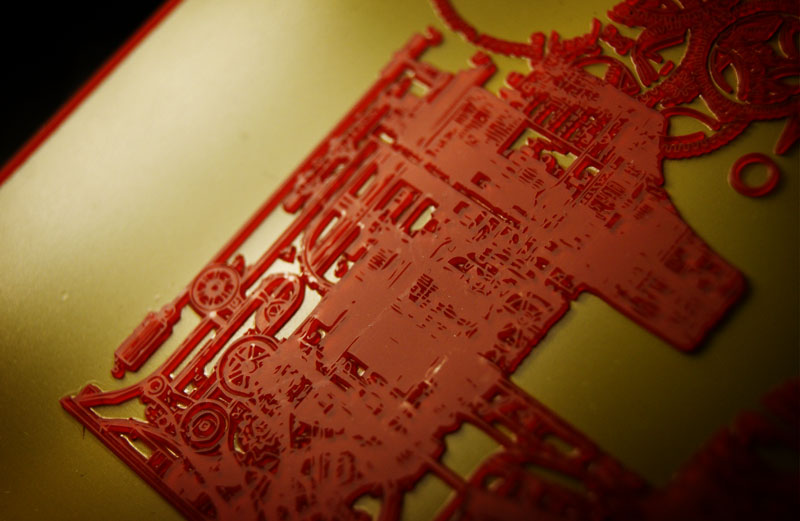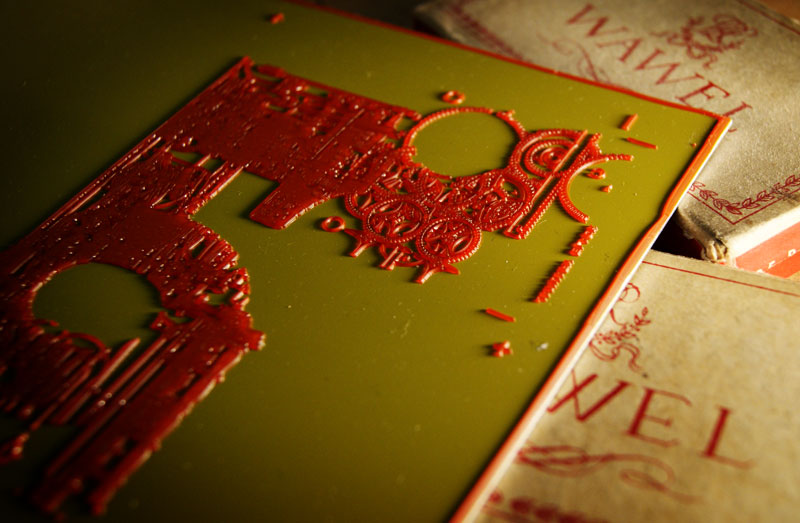 Marek also send me these picture of the paper waitting for inks ;)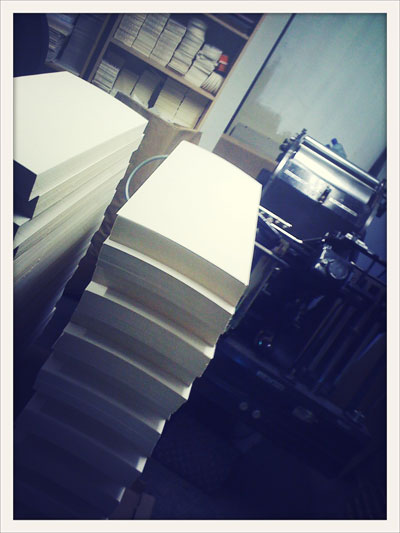 Posted in about the project
Wednesday, 16 November 2011 22:36
Here come april... These old commercials fasinate me... I love to watch wall covered with them in old phots... I do a creation based on this idea... I also use them for wall stickers, as a tribute for the ones painted on walls (we still can found a lot in French towns, have to present pictures on that too ;)

The ones used on the april page are based from commercials found a french magazine called "L'illustration", which was published every weeks from 1843 to 1944... which makes 1 century and 5294 issues !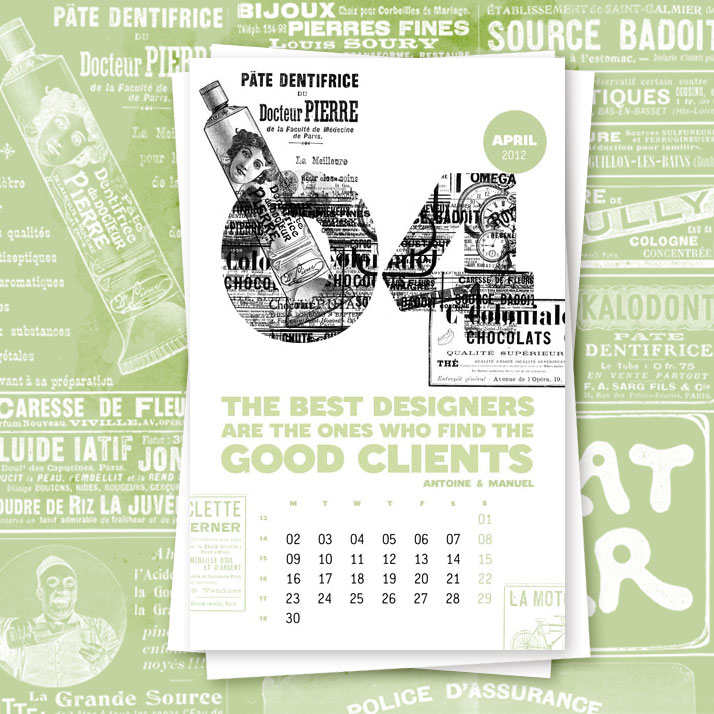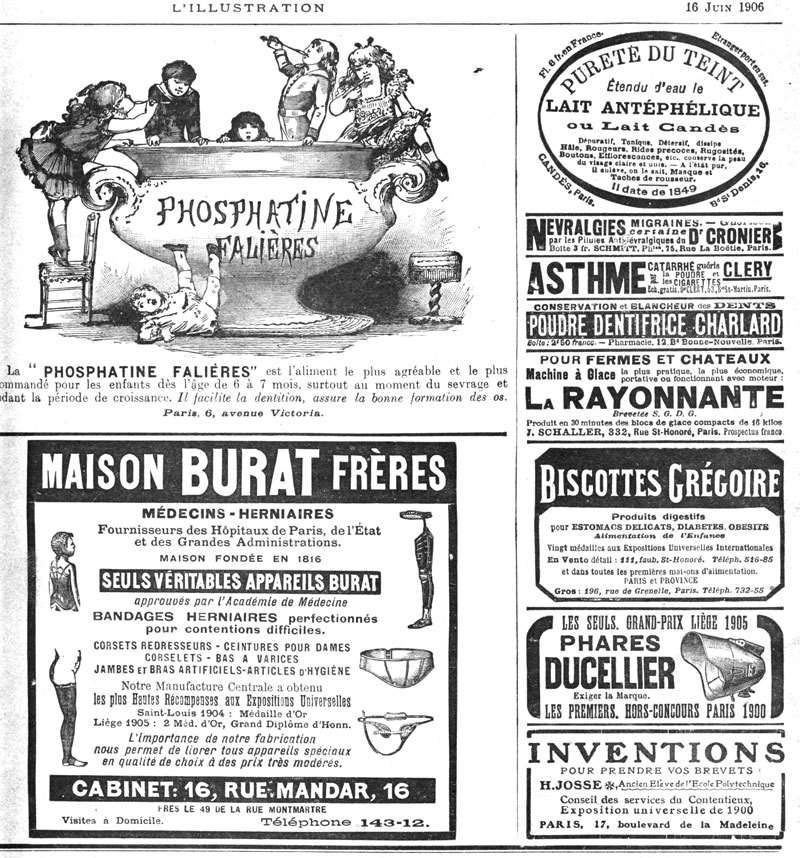 Posted in about the project
Sunday, 13 November 2011 00:22
Here come march... I love hand writtings... I am always looking for old papers with personal messages from 20's. Postcards are the best, as there is always a very limited space... and at this time, they send postcards just to say "eveything is fine"...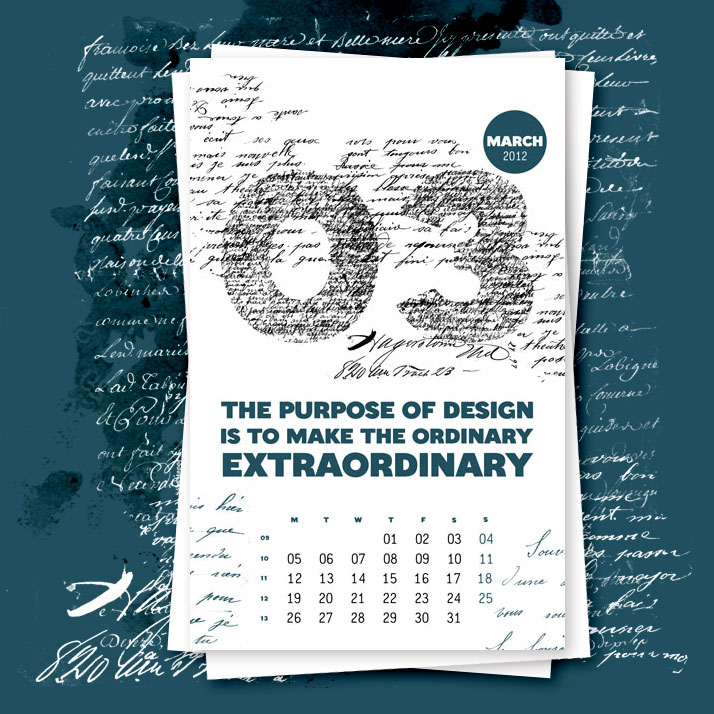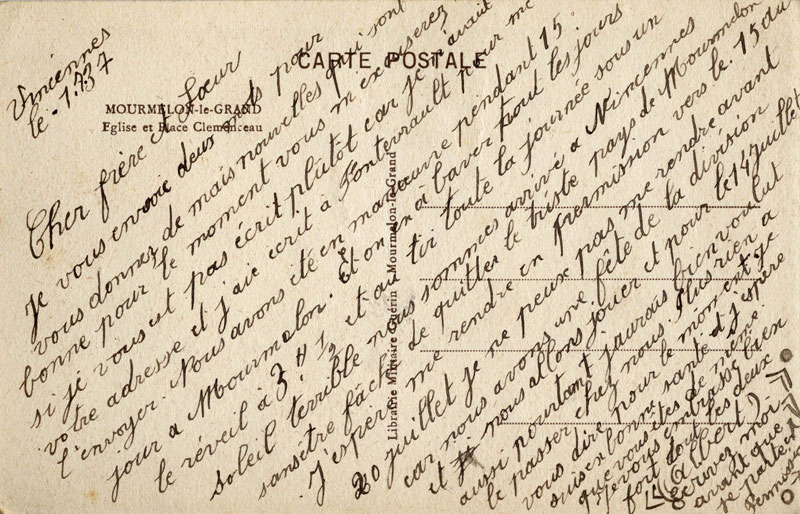 I also have this diary... April 22th : Emilie made me the nice surprised to visit me this afternoon, we spend a nice hour together... Tonight I went to bed at 8 to have nice dreams in my small bed... and this goes like this for everyday ;)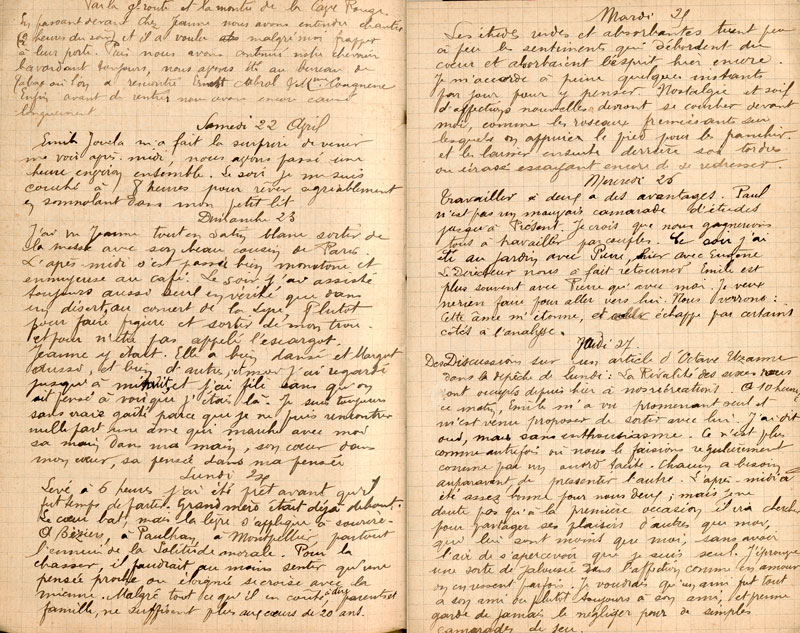 Posted in about the project
Thursday, 10 November 2011 13:03
Here come february... For this one, I use the same illustration as on the "Designers meant to be loved" poster (which is sold out now), because I always want to see how this will go with letterpress printing...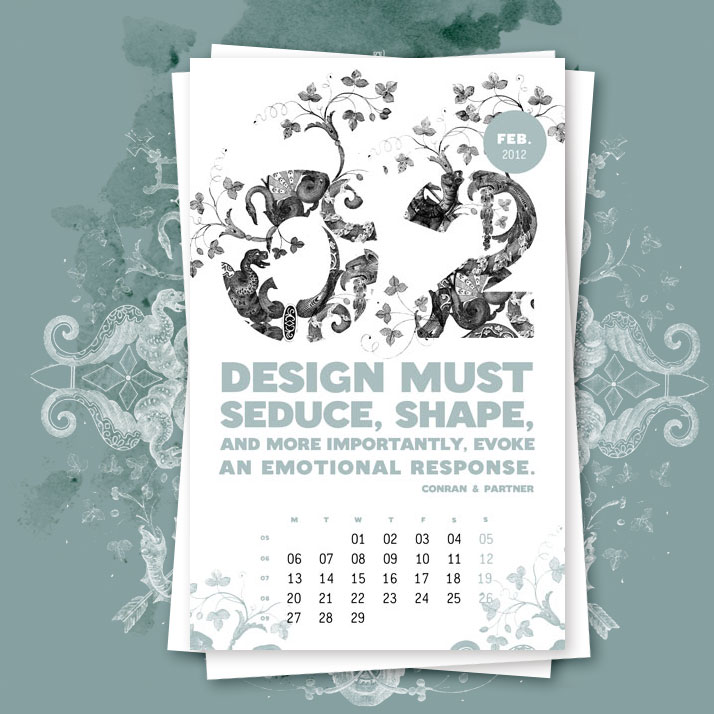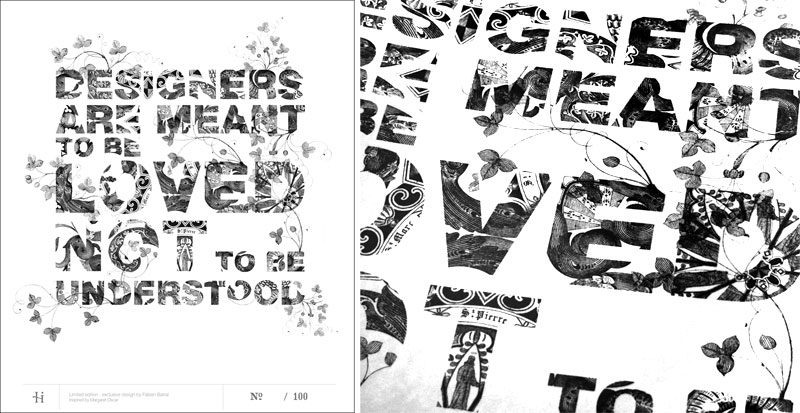 I have found this illustration in an old shop, a very strange shop... I feel like I was in the Diagon Alley in Harry Potter... This place was full of thousand things, chairs hanging from the ceiling, hundreds of books and cats everywhere ... and a large dog that guarded the door ... I was not even sure all that was for sale or if it was a private place... but the owner, an elderly woman as crazy as her shop, well know the value of all these things ... I found this picture in an old cardboard drawing, between old photos of Paris and uninteresting watercolors ... I loved all the details and especially floral illustrations ... The original is now in over my head on the wall behind my desk ...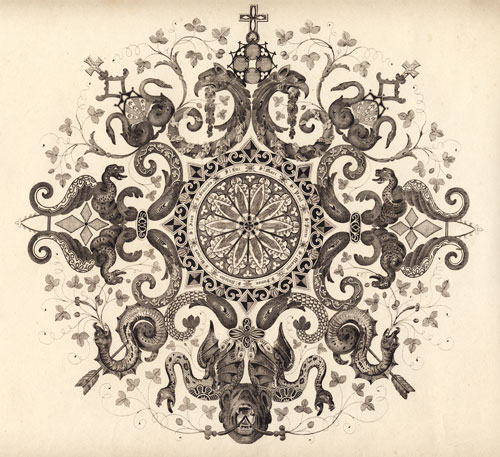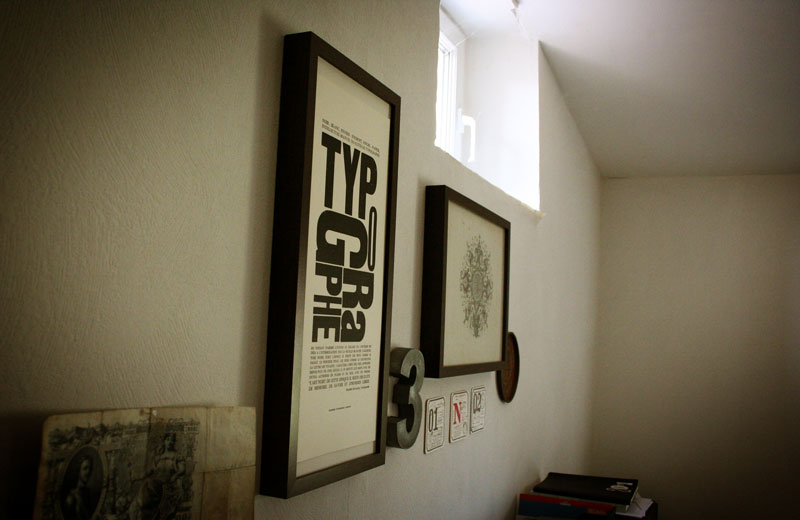 Posted in about the project
Wednesday, 09 November 2011 12:24
Here come january... I start with this page, my idea was to design nice numbers, as I have done for the sentenses posters, but I need to adapt this idea for letterpress...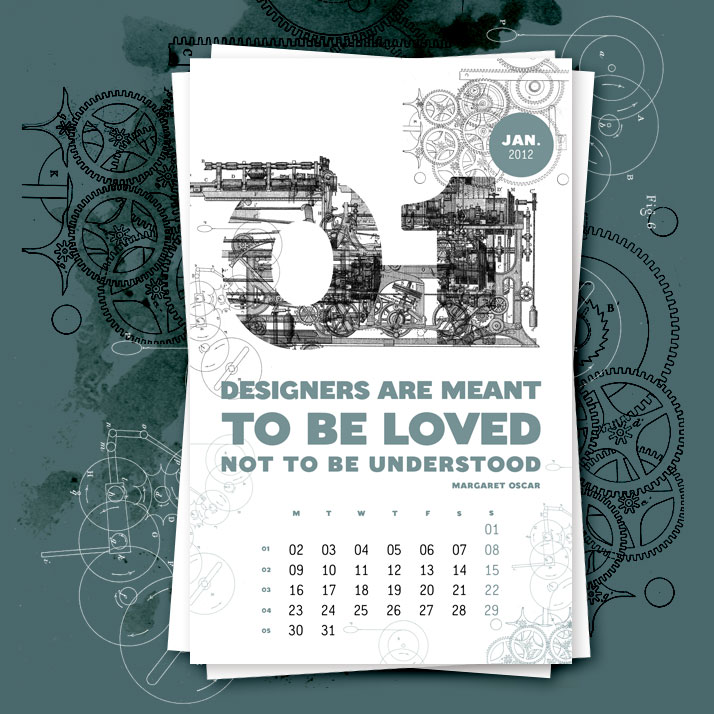 I have thousand of illustrations in black an white, and I love technicals illustrations if mecanism as I use for this one... and as last year, I use blue colors for winter (january, february & march)...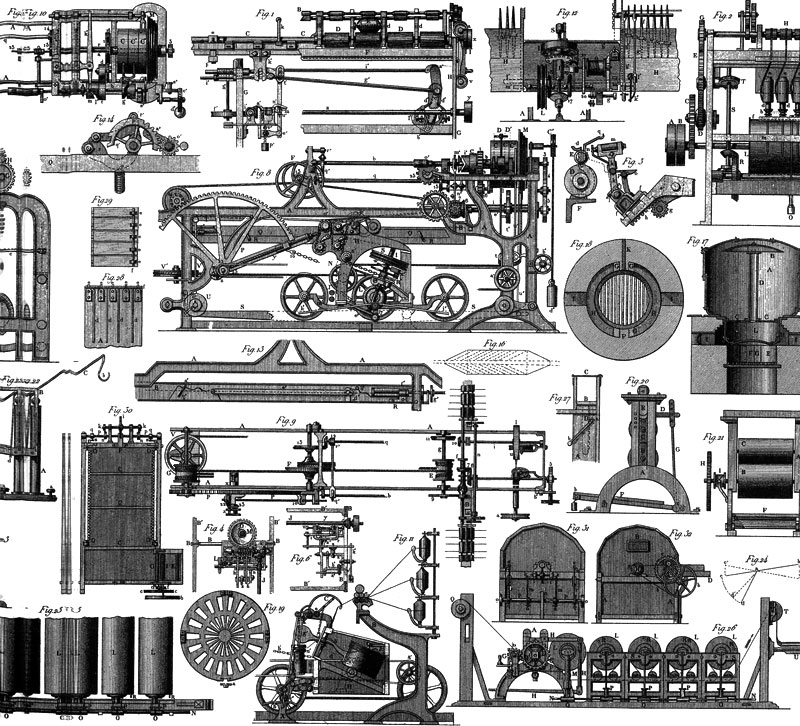 Posted in about the project
Thursday, 27 October 2011 09:40
All the pages of the 2012 are now done... The idea for this year, was to do a very details design for each month number. The designers sentenses are still here, but they are not the main thing for each page... These sentenses are the same (it took me years to found them, I can not found new ones in a year...)... there are just one new... you will see next post...

I have post on dribble the six first month, so I will start the presentation of the page from december to january... I put them on flickr too, would be happy to read your comments...

flickr & dribbble
Posted in Other projects
Tuesday, 12 July 2011 22:34
As a lot of people ask after these letterpress coasters, I do a reprint of 100 copies, but the set is now of 4 (N / 1 / 2 / 3) and are available with a special wodden packaging... They are also in 2 colors... The only way to get them is by supporting my blog www.graphic-exchange.com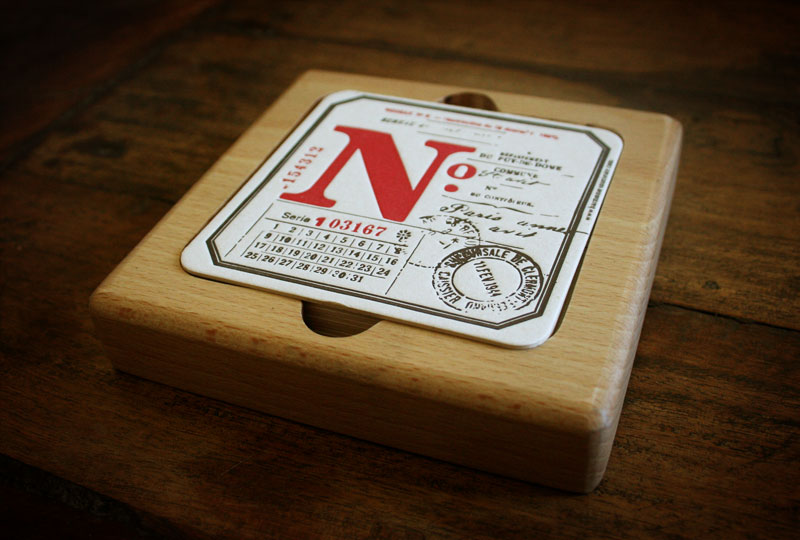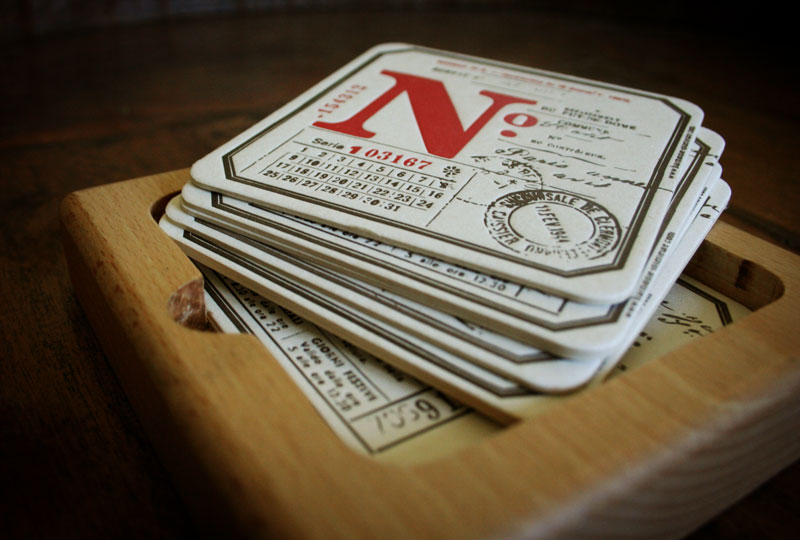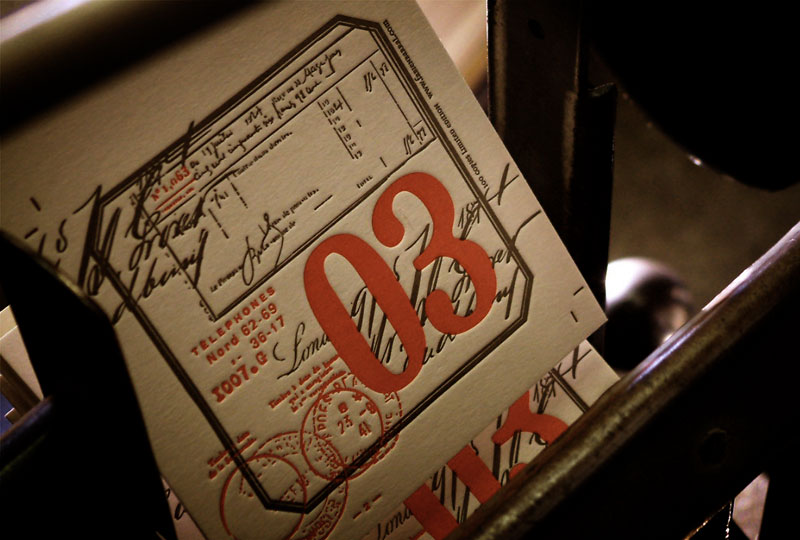 www.graphic-exchange.com
Posted in about the project
Thursday, 03 February 2011 08:53
So, it is time for the results of the letterpress calendar project. The original idea was to pre-sell them, without any idea of whether or not it would work. The only promotional tools I have are  my  websites (www.graphic-exchange.com, www.fabienbarral.com, www.harmonie-interieure.com, cargo, behance, flickr). I hoped that it would result in a snowball effect. No Twitter, no Facebook. I'm don't really have time to be on them...but as I see the number of visits coming from Facebook, I may change my mind...

I first mentioned this project back in October and it went up for pre-sale in November. Of the 300 copies produced, we wanted to sell at least 200 and use the other ones for self-promotion as well as gifts for clients as well as friends. Of these remaining 100 copies, 30 of them are special (and I'll talk about that later, I promise). But finally we sell more than 250 and the other ones werre for promotion.


What surprised me the most is that we are shipping them all around the world. There were a lot of orders from Germany (why, I'm not sure), France (of course), the United States, Spain, Italy and the United Kingdom. We also got orders from New Zealand, Thailand, Brazil, Argentina, South Africa, United Arab Emirates and India! It's amazing how small the world can seem when you have a website, it amazes me every day.


All of this motivates me to do more projects like this in the future. I have actually started a new big project with less letterpress this time around. This allows me to have more fun with layers and textures in Photoshop ; )
You can view the first images here, on flickr. Any feedback is welcome. 

So, here are the latest images (which were used in the final promotion for the product which aimed more at getting it published in a book or blog. Remember the snowball effect).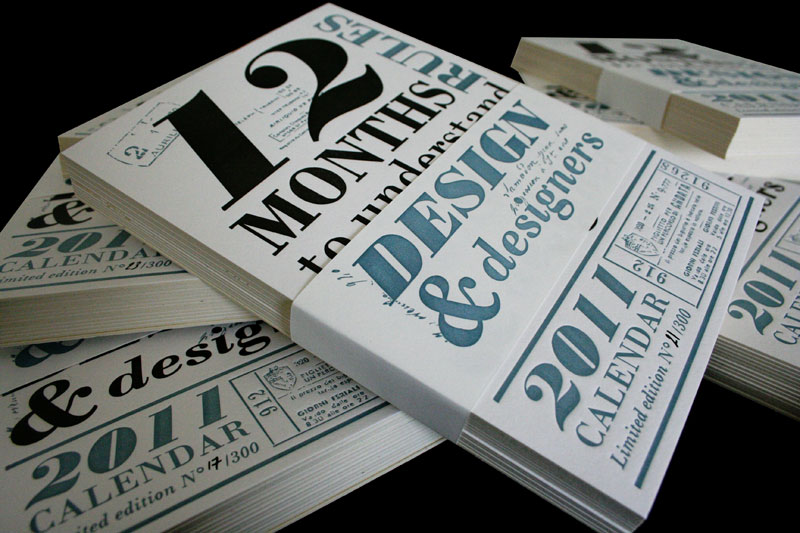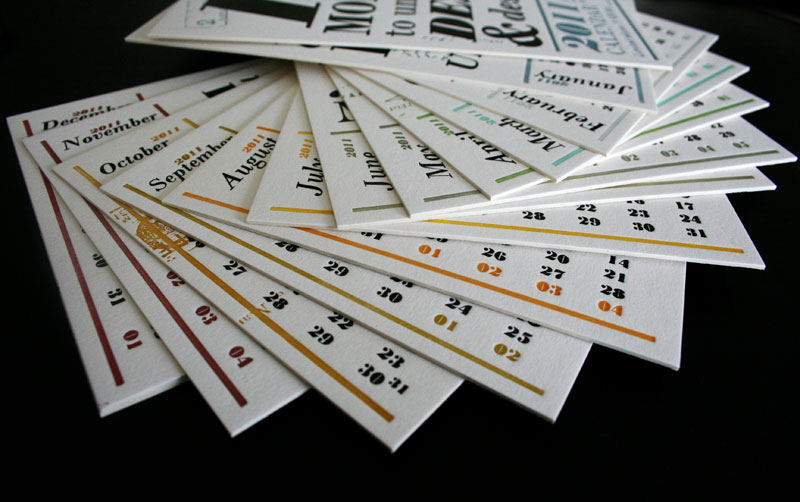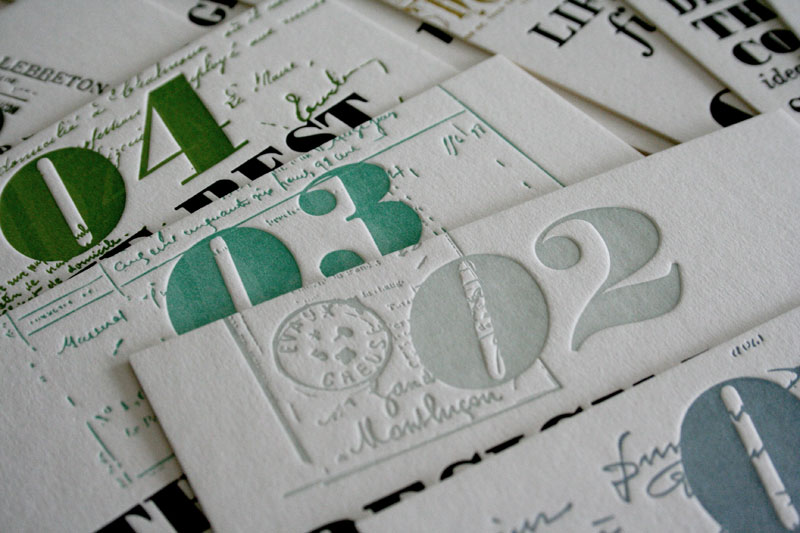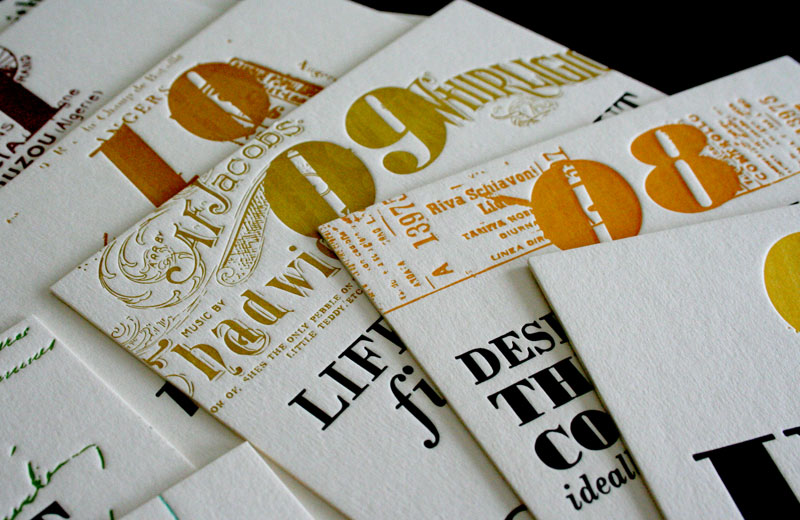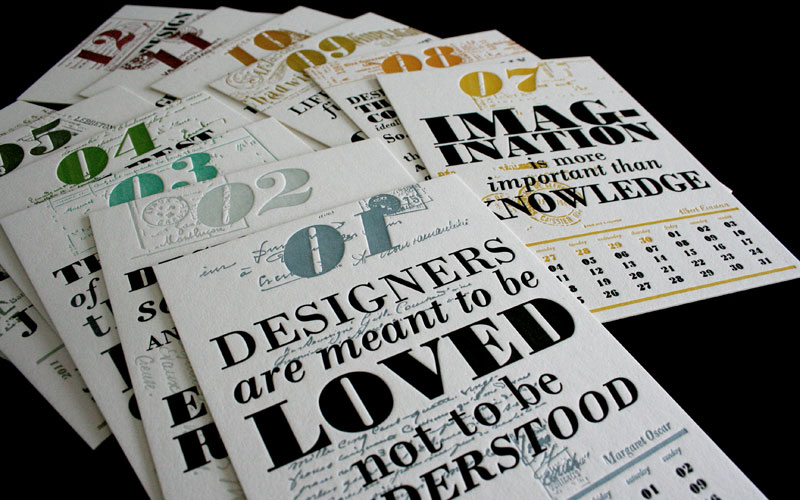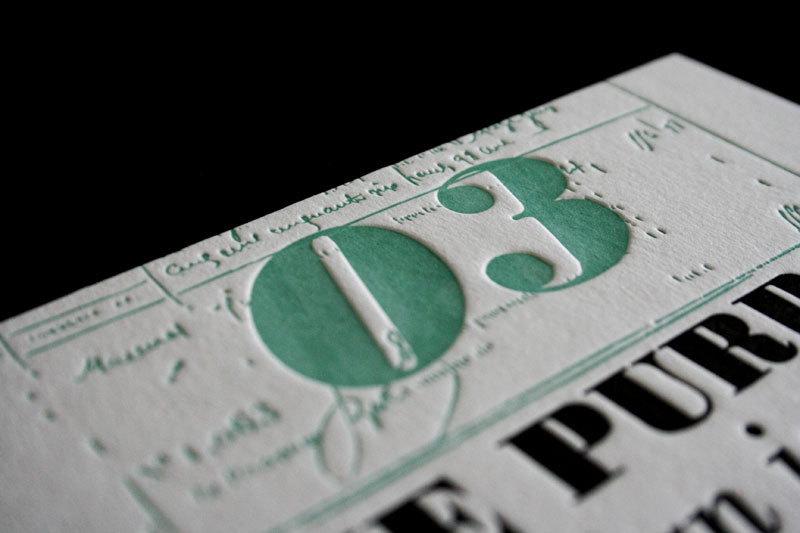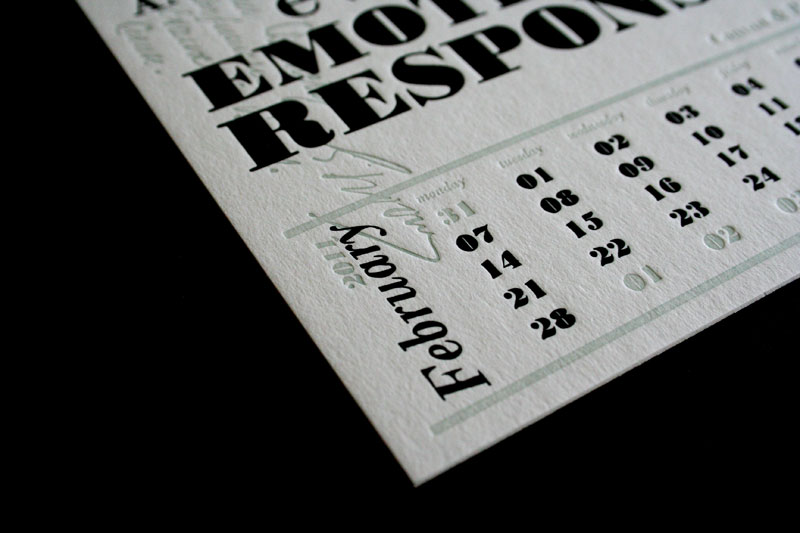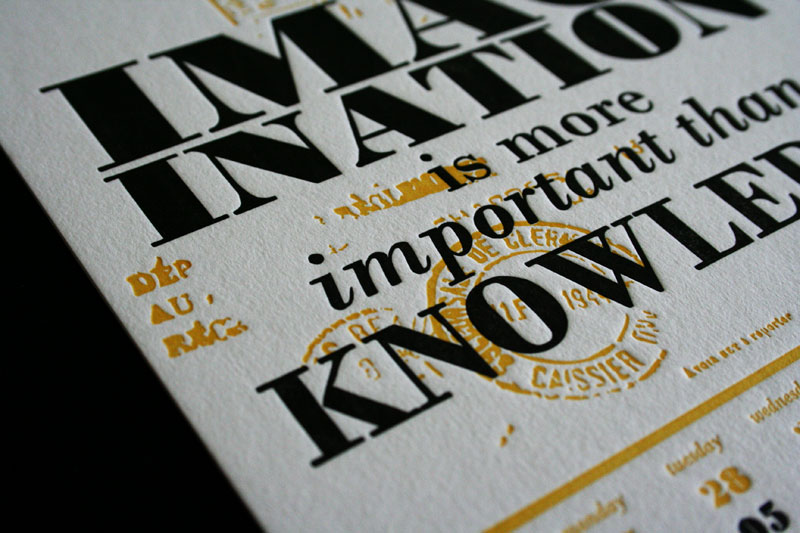 Posted in about the project
Tuesday, 18 January 2011 00:00
At last, we get the calendars and during the last 2 days, we have to do all the packages... As we said, orders done before december 25 will get extra cards... So, I am very pleased to have them in hands, it is a very nice feeling...
After numbering each of them, we put them in boxes... A lot of them are going to France, USA, Germany, Spain, Italy, UK and other European country, but we even have orders from Taiwan, South Africa, Brazil, New Zealand, India or Indonesia... Always amazing how the world is small with a web access ;)

We still have some copies for sell, around 30 copies left... So, if you want your copy, it is now or never... I have of course keep copies for myself, and these are a little special... will show you why another day...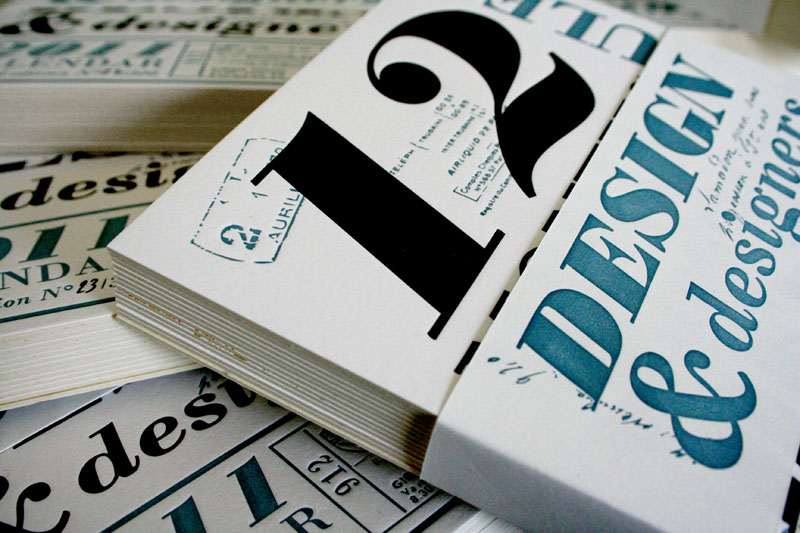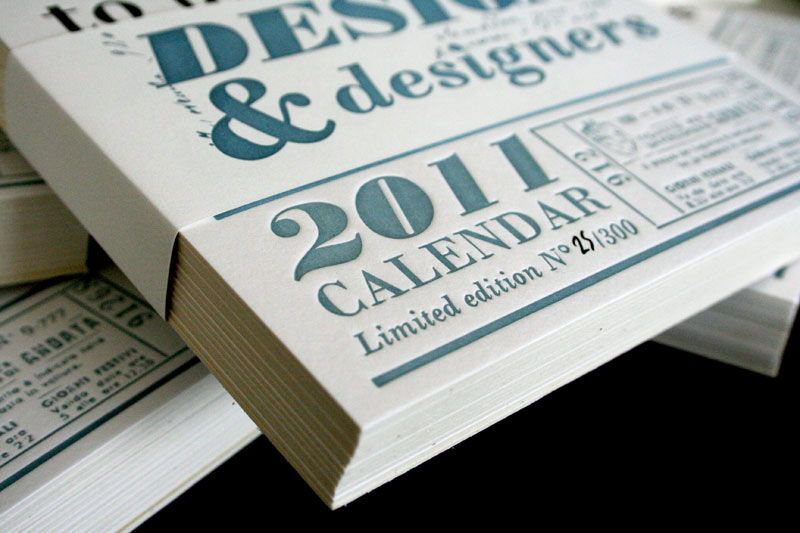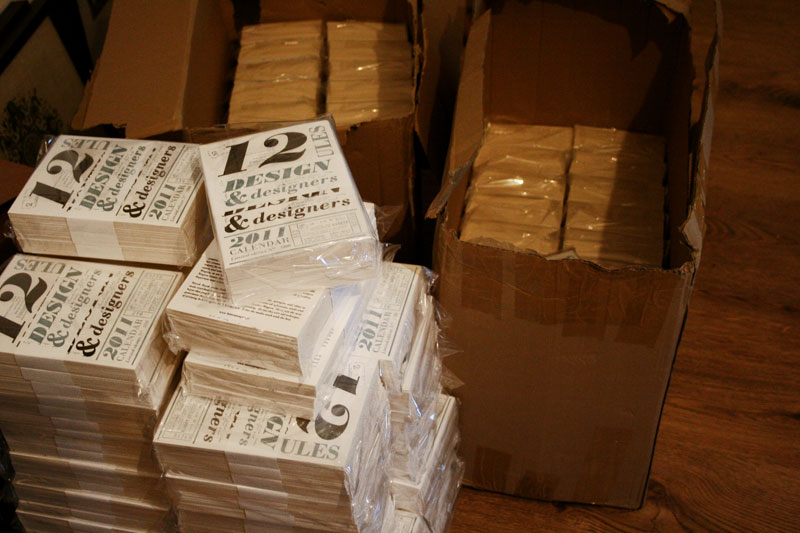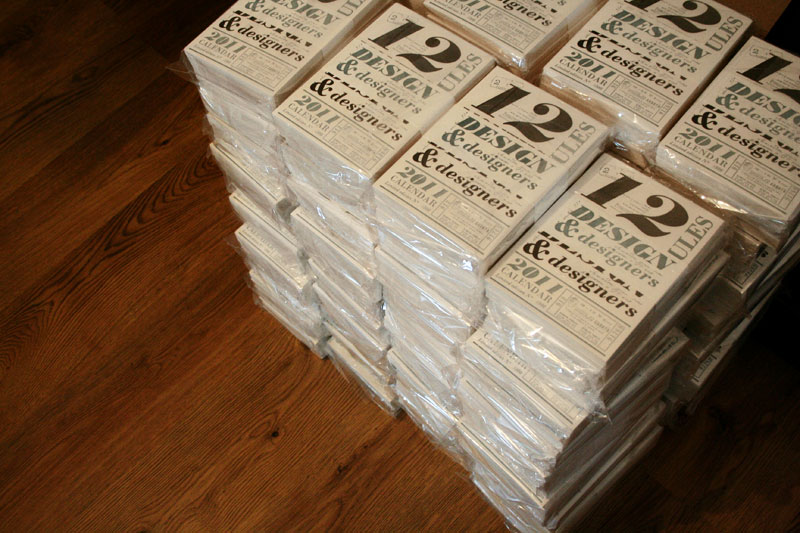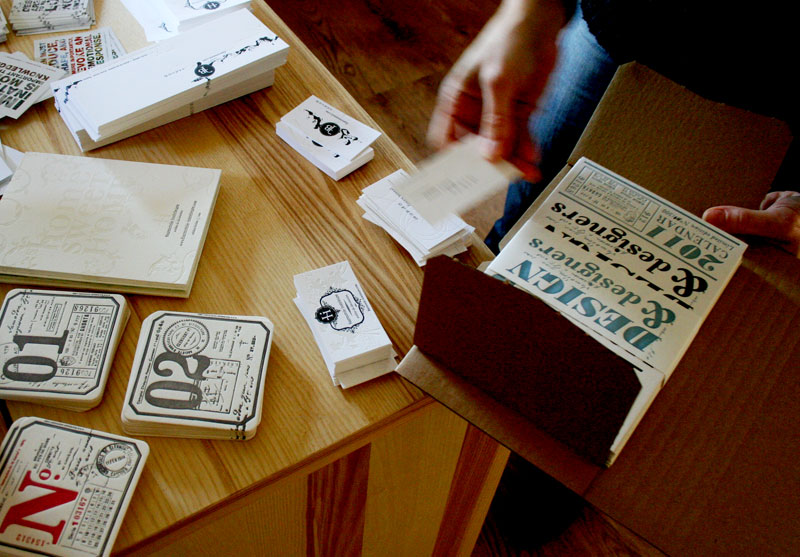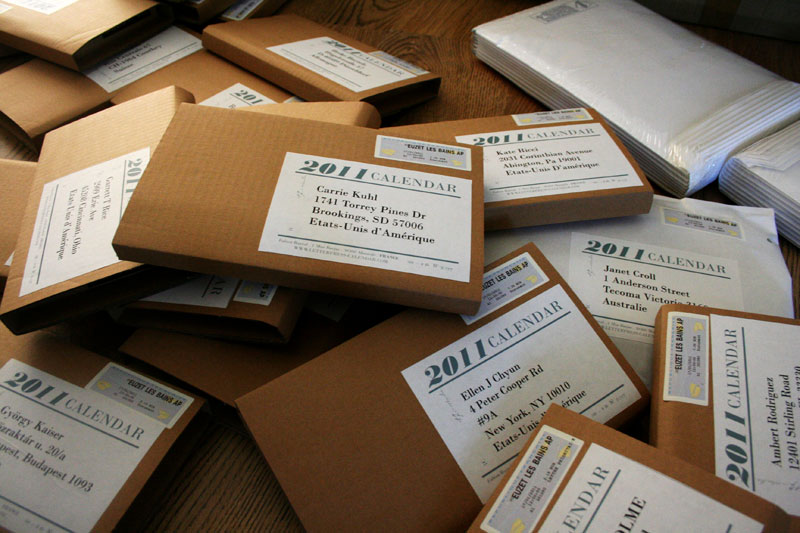 Posted in about the project
Monday, 03 January 2011 20:56
First of all, we wish you a wonderful and creative new year...

While I present you the last shots send by Marek, the calendar should be in big box and coming from Poland to France... They should took 3/4 days to travel if we are lucky, so on friday we can send the first orders...

I am very please to saw all the colors now, I am very please of the result and contrast between the cold colors of winter and spring to the hot colors of summer and fall... I am as impatient as you are to have them in hand...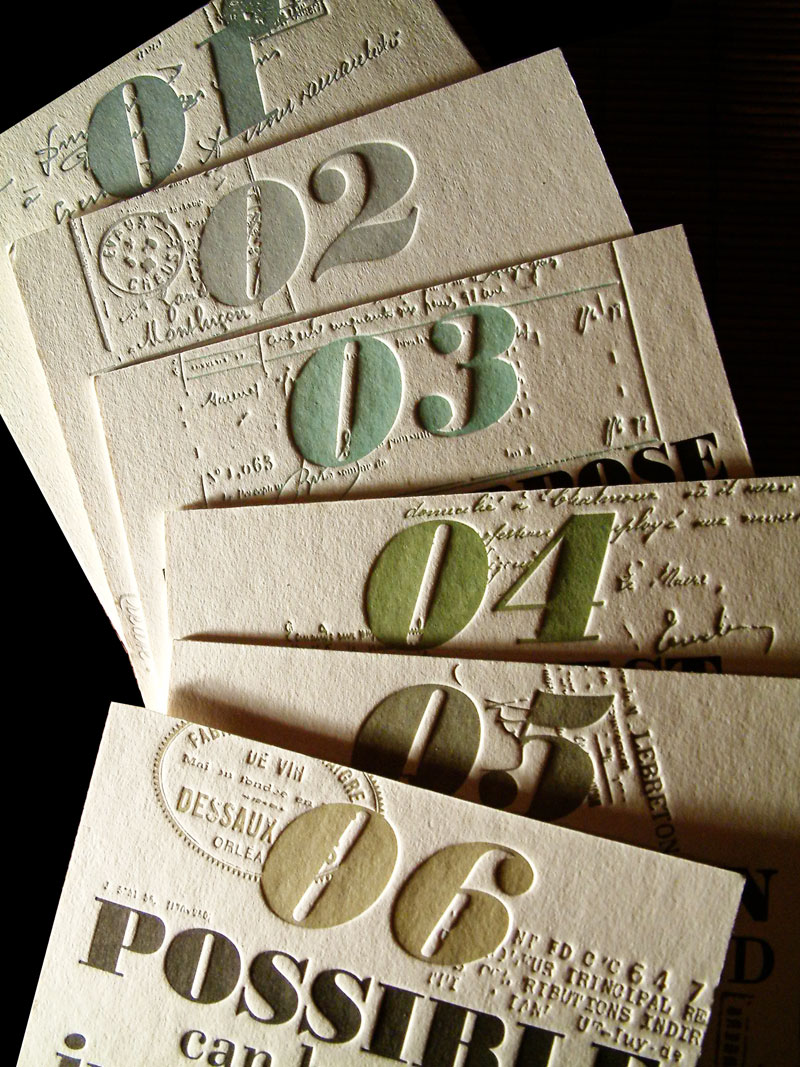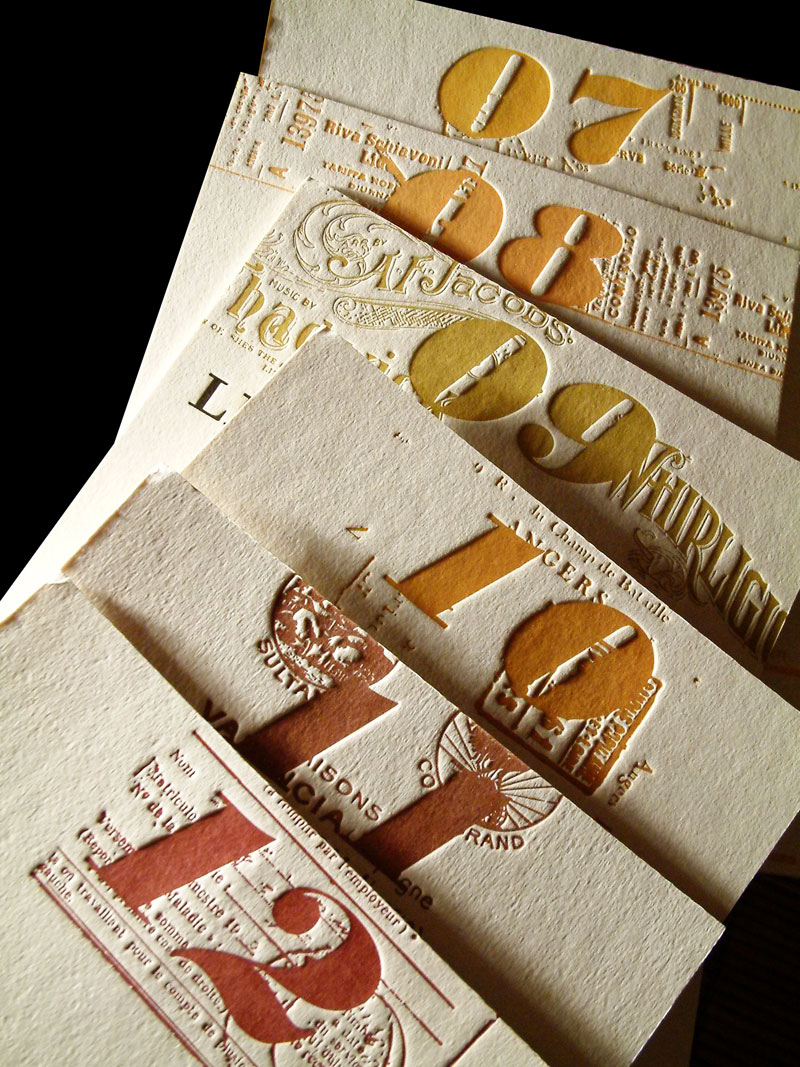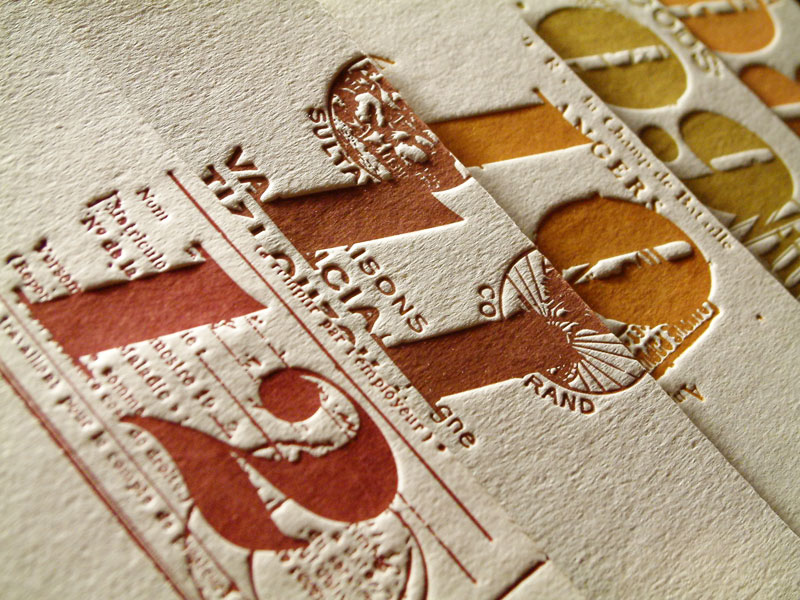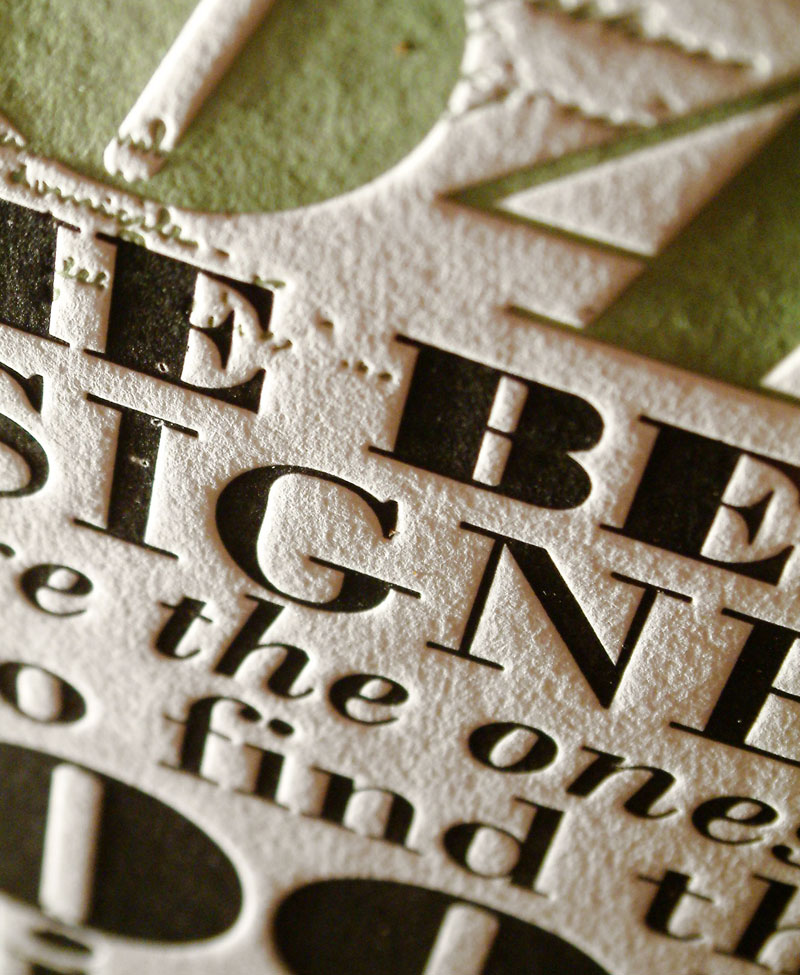 Posted in about the project
Monday, 27 December 2010 22:49
Hope you all have a nice and wonderfull christmas...
Almost everything is printed now, here come some of the pages... we will do our best to send them next week, as we need to "compose" all the calendars and then to pack them individually... then, we hope snow or customs won't slow themm too much ;)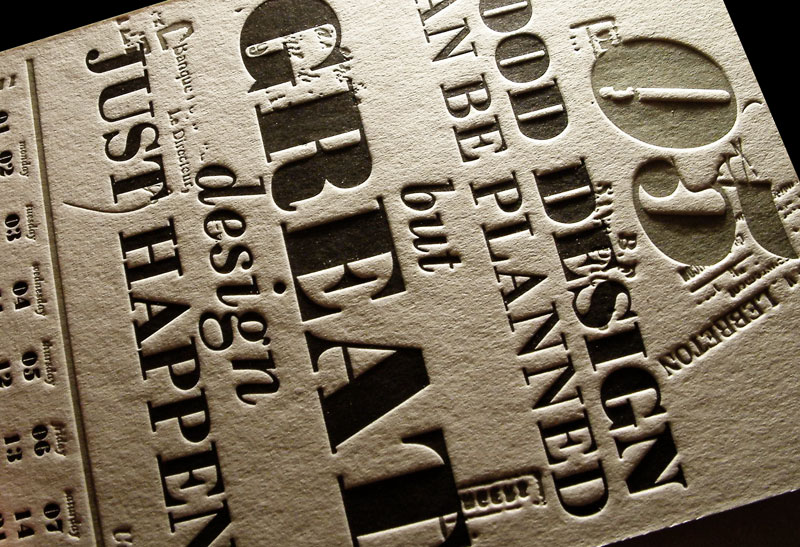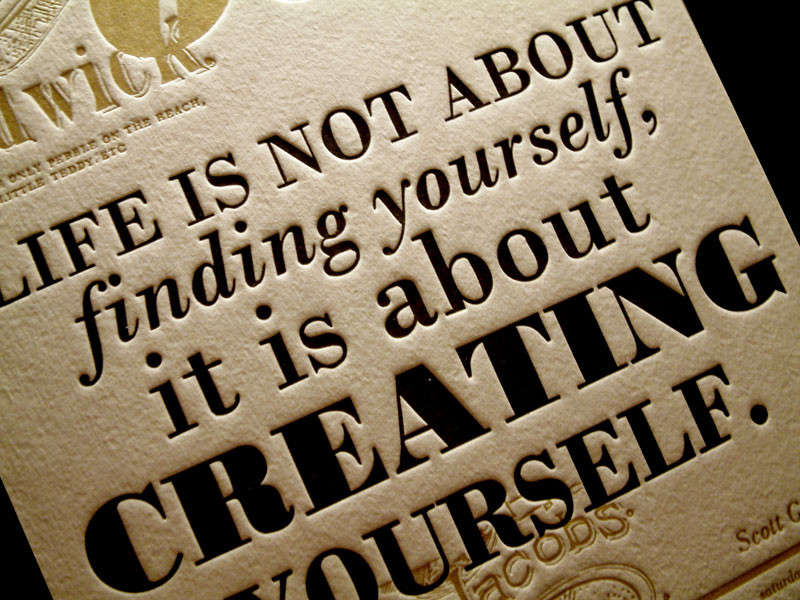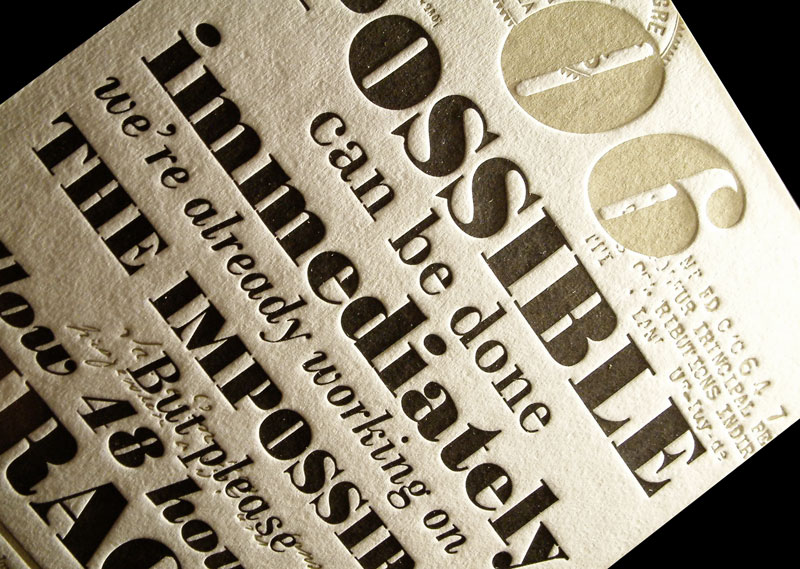 The front page and gifts...
Posted in about the project
Friday, 17 December 2010 13:13
Here it comes, the front page is now printer... we add a last page which present ourself too...
Also, I figure out I won't have anough buisness cards for all the order, I need to keep some for myself... So the offer of giving personal buisness cards & other letterpress cards I have in stock will only concern order done before christmas day...
So, to sum up :
- gifts for order done BEFORE dec. 25th (or order of multiple copies of the calendar) : my 2009/2010/2011 buisness cards + my 2010 correspodance card + harmonie interieure buisness & correspondance cards + 4 small designers stickers
- gift for orders done AFTER dec, 25th : the 4 small designers stickers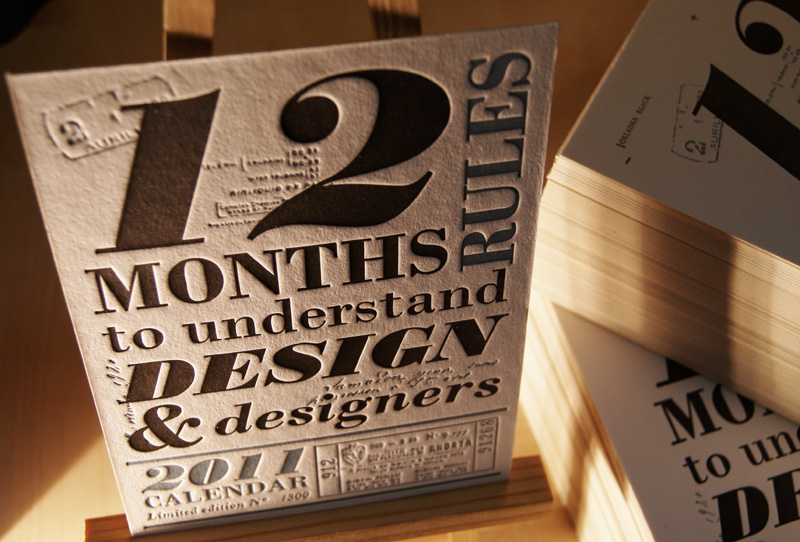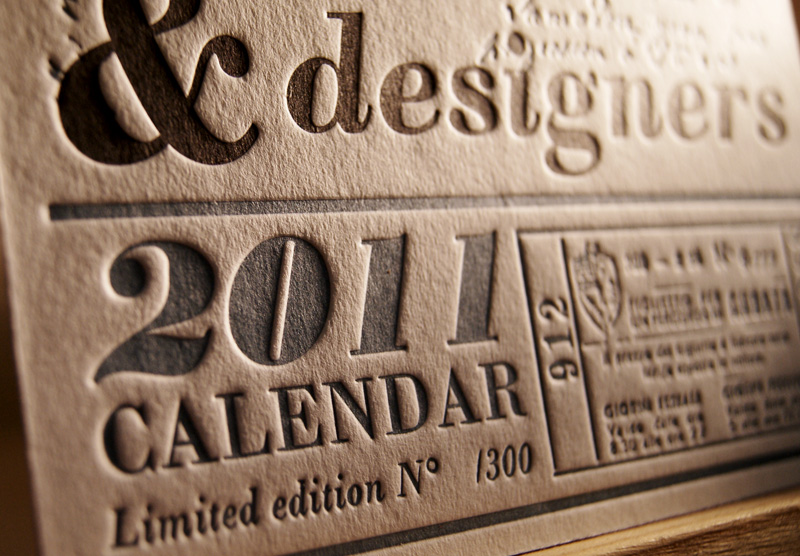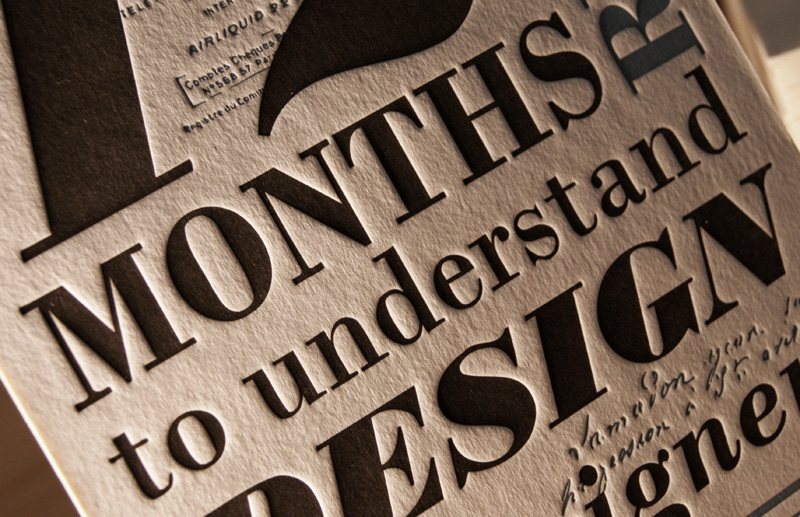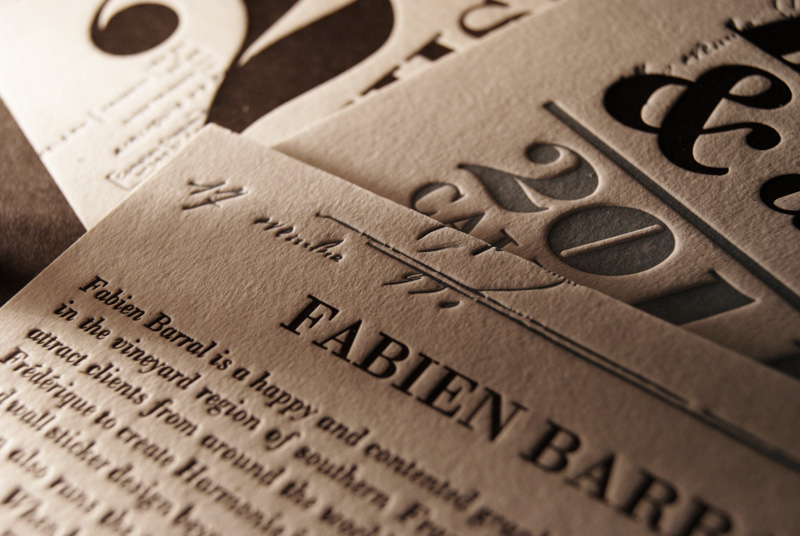 Posted in about the project
Wednesday, 15 December 2010 11:12
Printing the calendar took (of course) more time than we expect... For each month, Marek print one patone color and then the other design will be printed in black in a second time... The paper is amazing and it looks amazing...
Also, we figure out it won't be ready for christmas, only Santa Claus can work so fast, we do not have enough elfs to help us... A typo on some pages force us to reprint them, and choosing one specific color for each page is not the easiest things... But we want it to be perfect...
If you want to offer for christmas, we will send you a gift certificate that you could give on christmas day and we will then send the calendar to the person of your choice when it is ready...
But, we have to said they are selling very well and there won't be enough for everybody... thanks a lot for the amazing support, very motivating to do much project like this...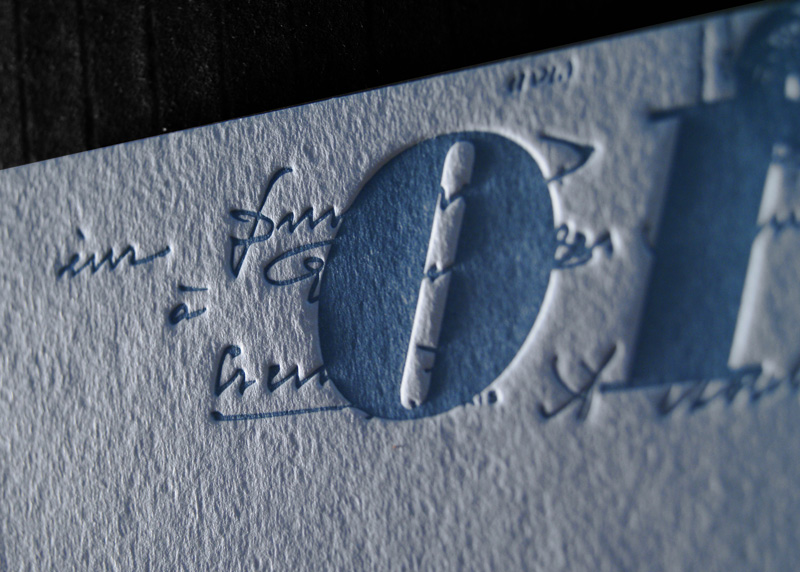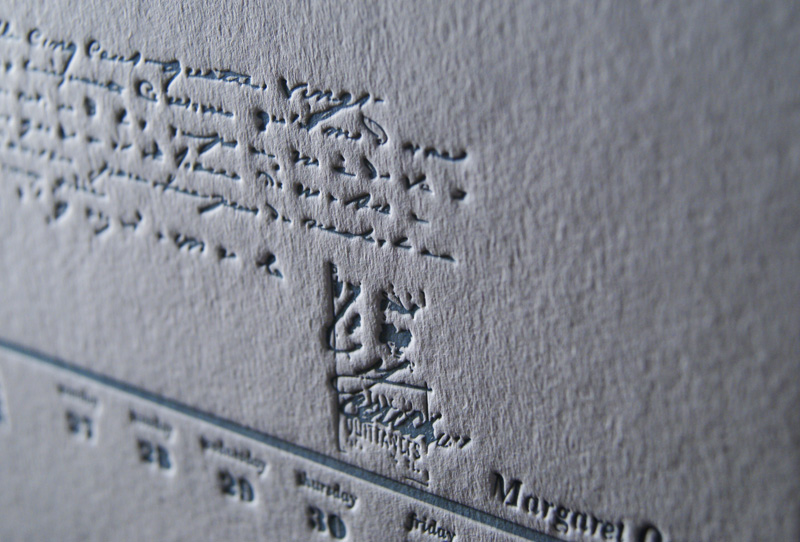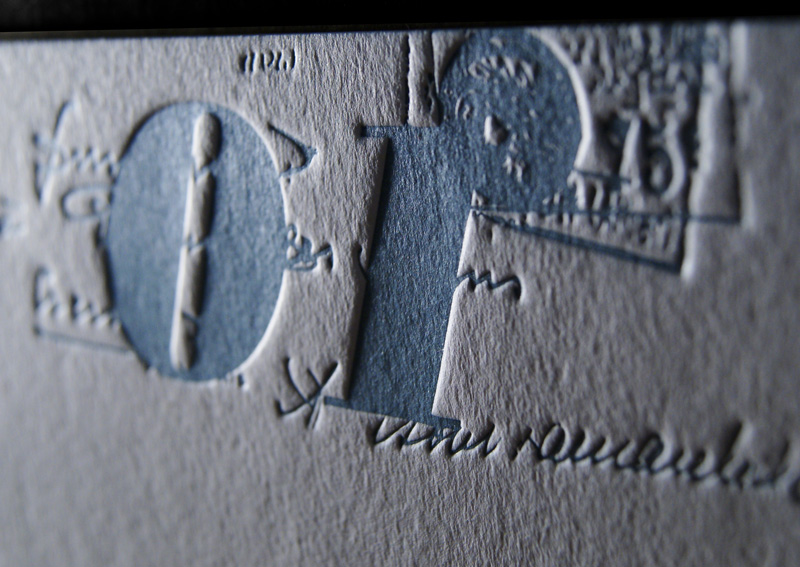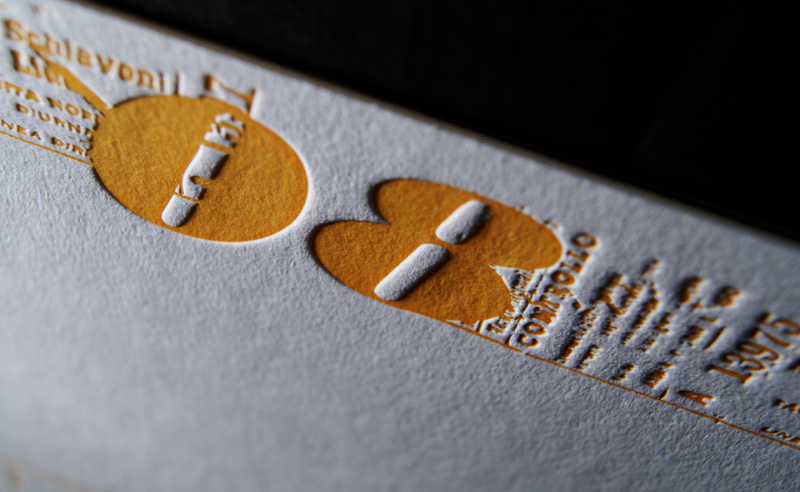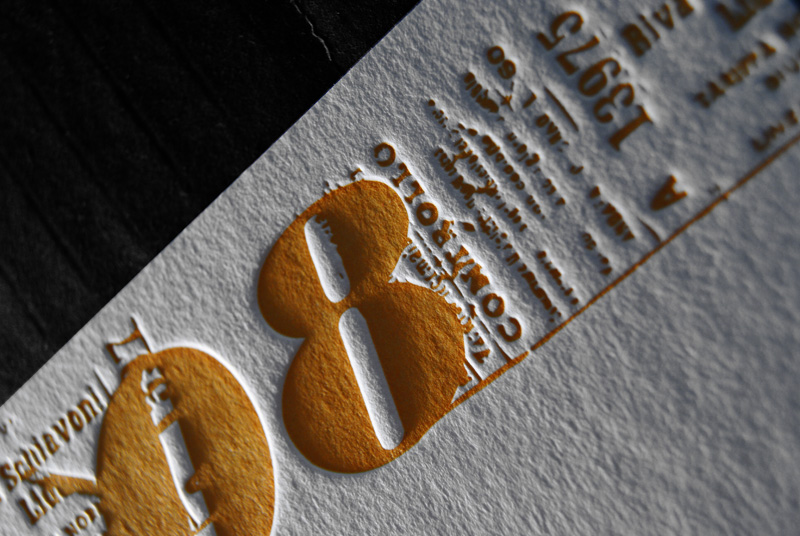 Posted in about the project
Saturday, 11 December 2010 23:57
Some ink and paper images...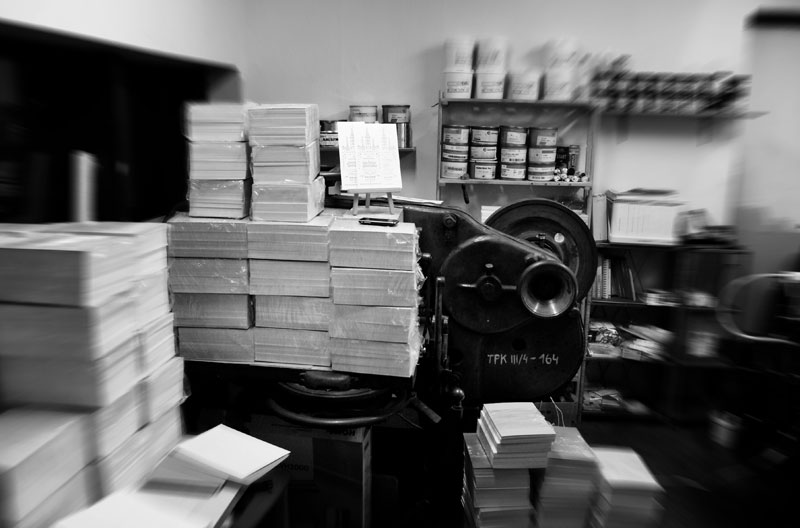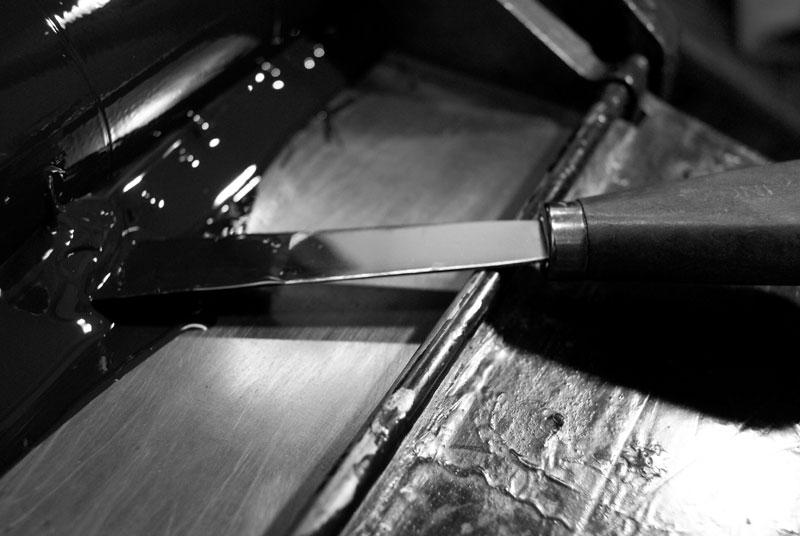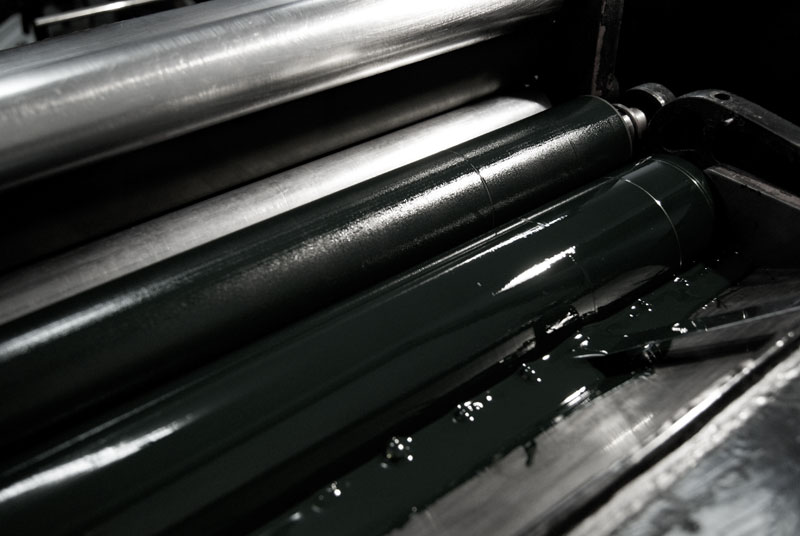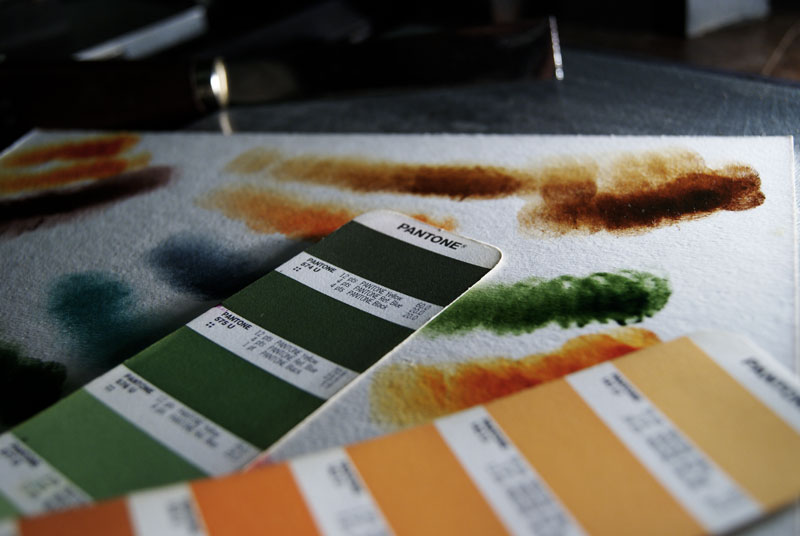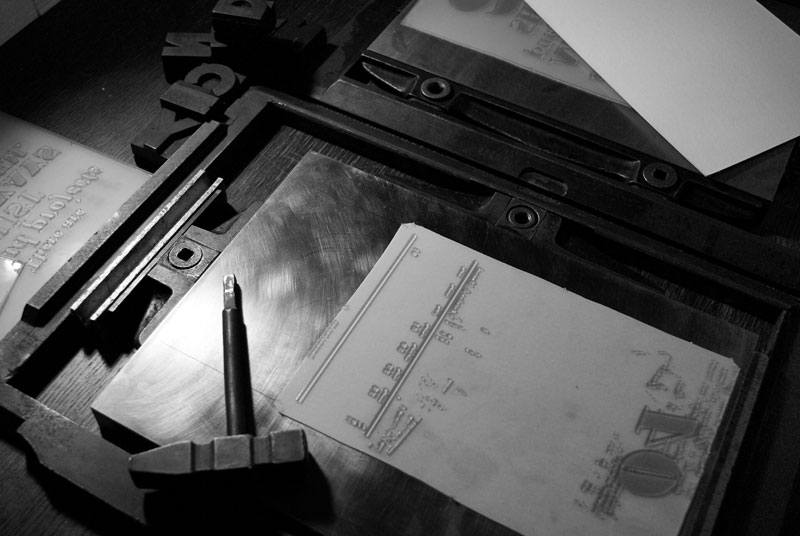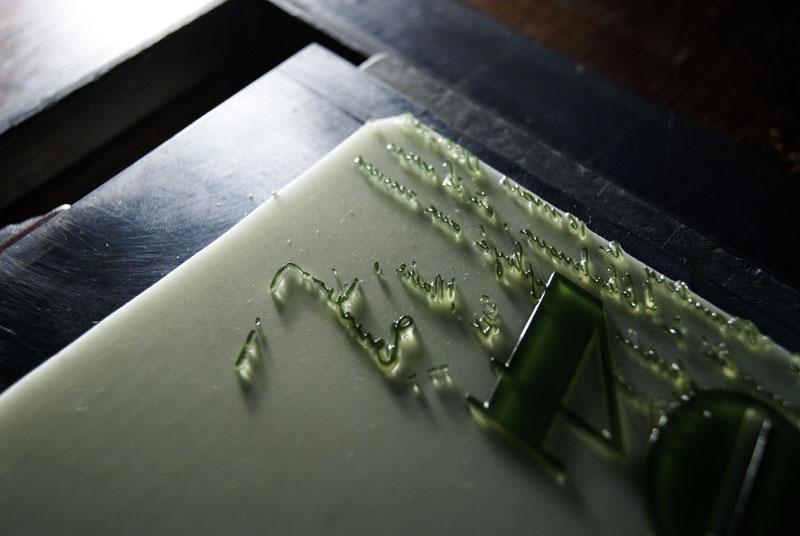 The first pages are now printed...
Posted in about the project
Tuesday, 07 December 2010 21:05
Here it comes, the first pages are now printed... as impatient as you are to get it ;)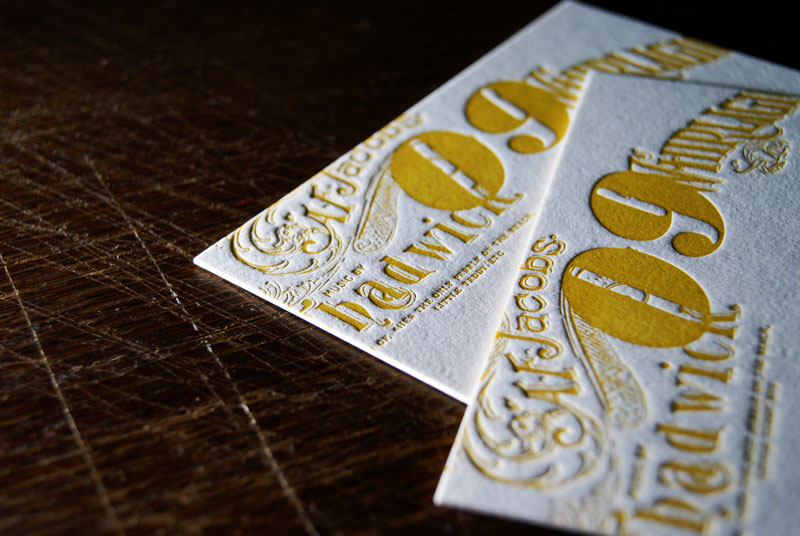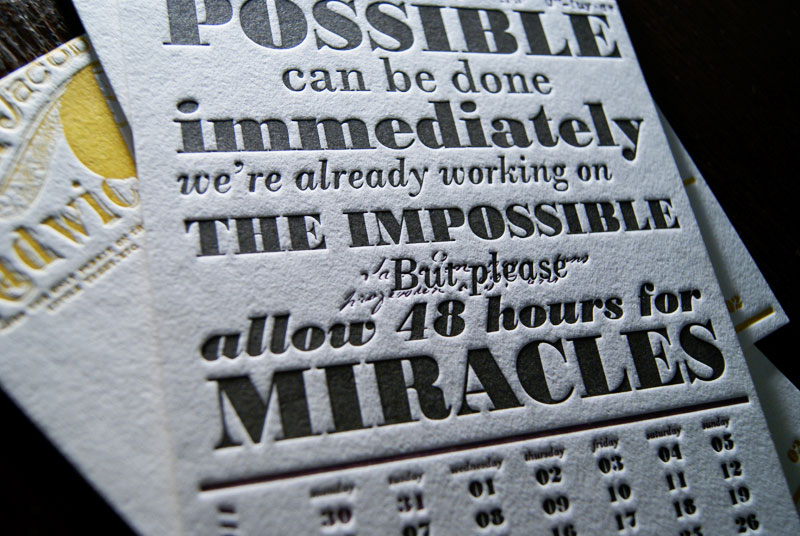 Special Stickers Christmas offer...
Posted in about the project
Monday, 06 December 2010 09:22
As father christmas need a little time to get our products ready, we set up stickers in precise size and colors to let you have them in time ;) Check www.harmonie-interieure.com . We also could send them to the person of your choice, with a special card at your name with a message... just tell us during the paypal ordering process.

For any order of more than 149€ (post costs not included), we offer you the letterpress calendar.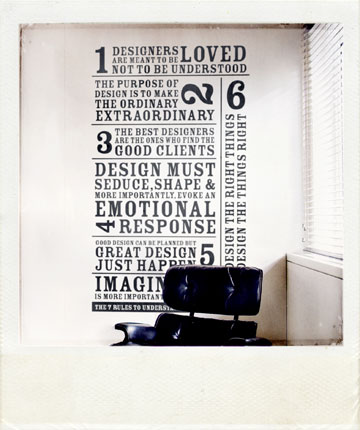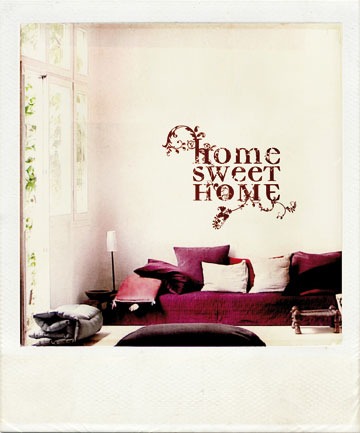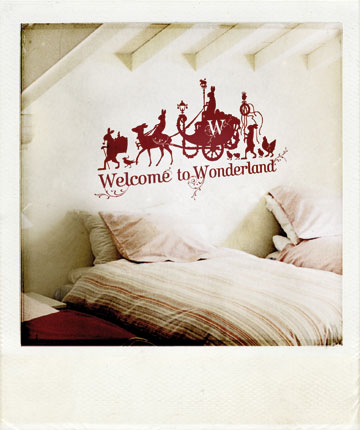 Warning, to have you item in time fo christmas (not only the ones of this offer but for any order on the site), you need to order before friday 10th.
Posted in about the project
Wednesday, 01 December 2010 07:55
Thanks a lot for all the orders... printing process start... here are the first pictures of the polymere shapes...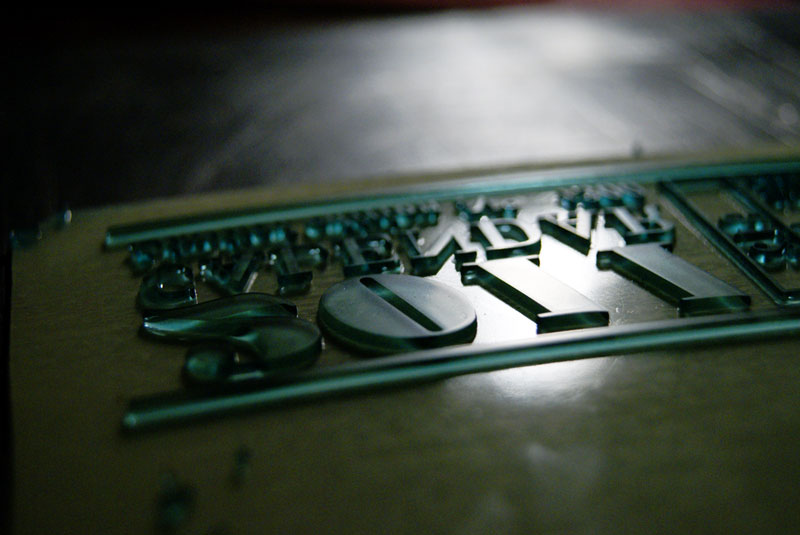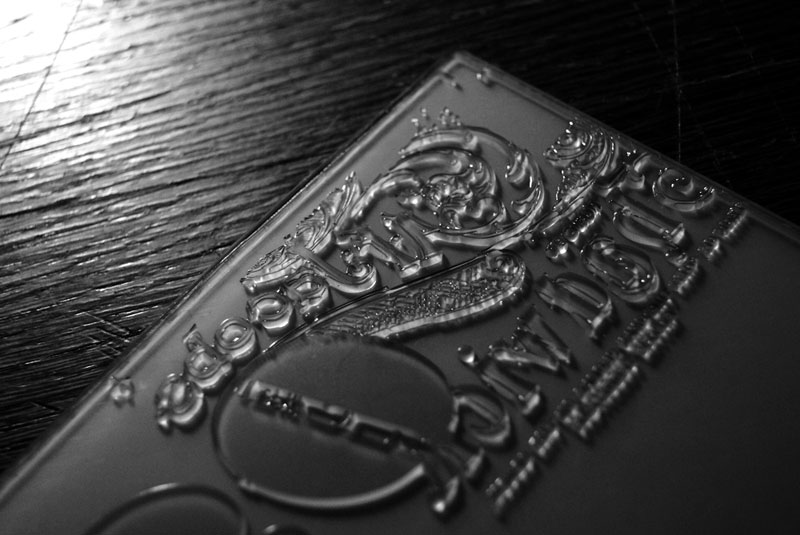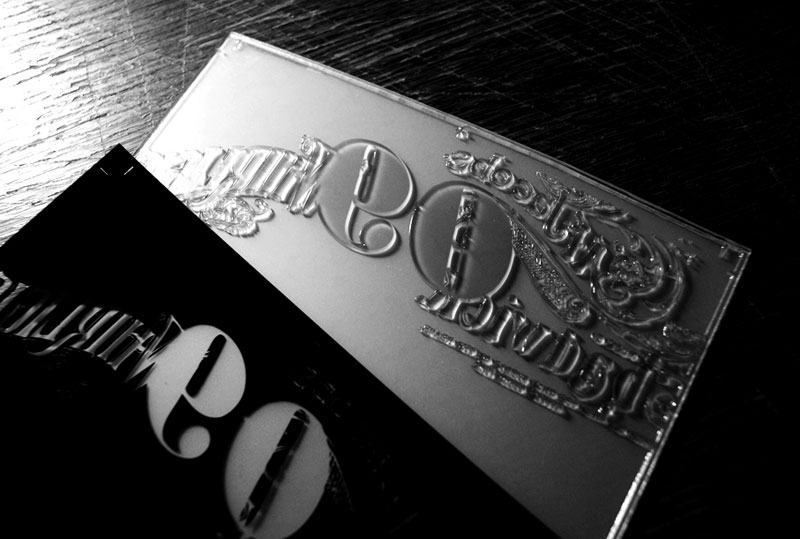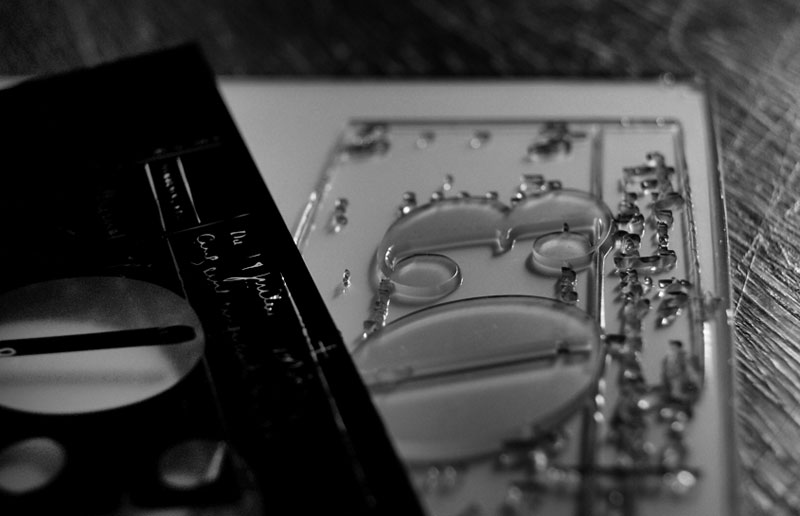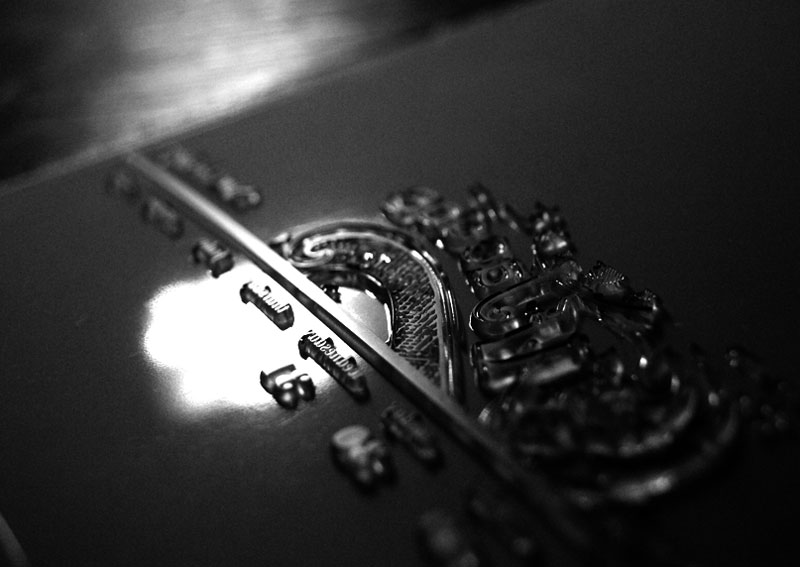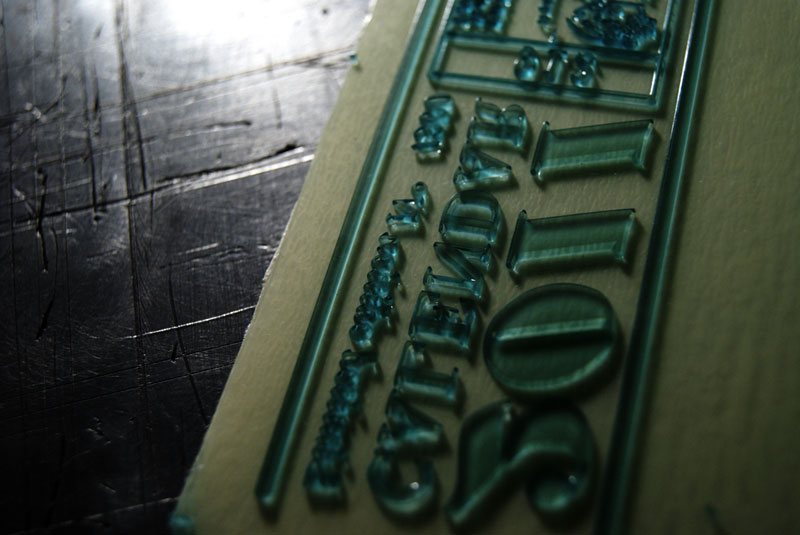 Split fountain new buisness card
Posted in about the project
Thursday, 18 November 2010 17:14
One of the project we have running with Marek at Lettera Magica is my new buisness card. It would be the third one I do in letterpress, and this time I want to to try the "Spilt fountain" process, which is a mix of colors while printing... And Marek seems to have a lot of fun...
He send me the first picture today, and I am please to say I will send a card with any order...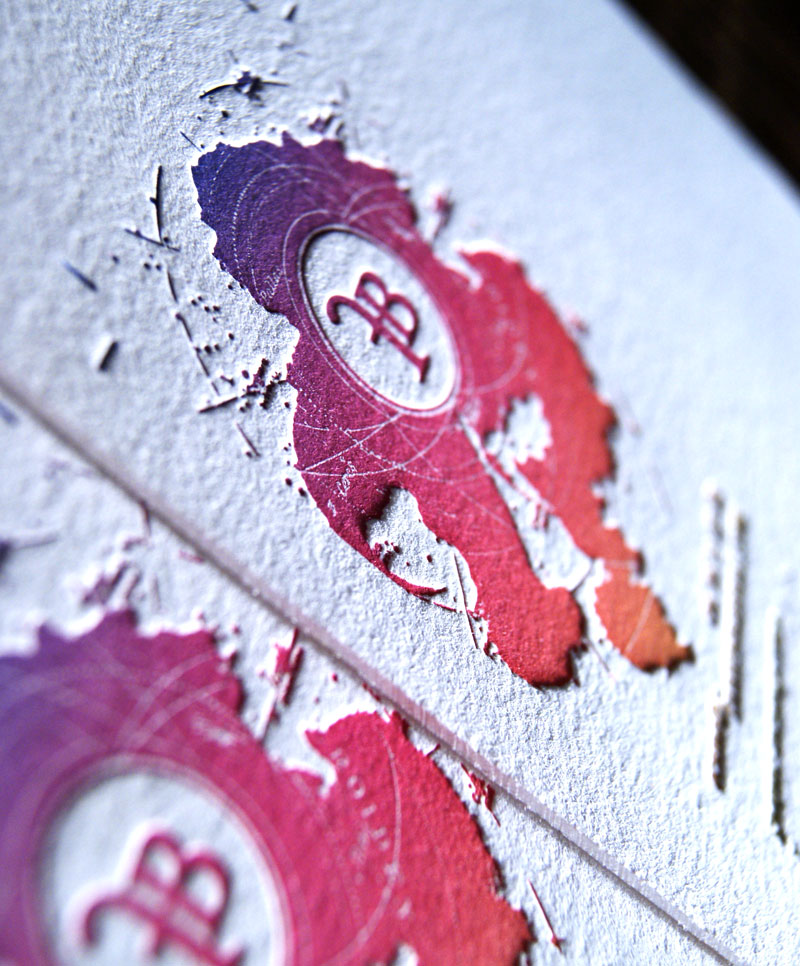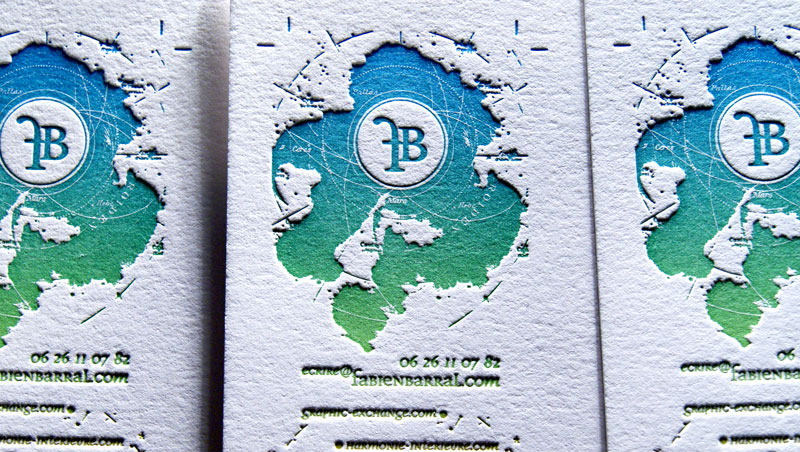 So, to sum up, when you order of the calendar, I will be happy to send :
-FB 2009 letterpress buisness card
-FB 2010 letterpress buisness card and correspondance card
-one of the spilt fountains FB letterpress buisness card (tell me which color is your favorit ;)
-Harmonie intérieure letterpress buisness card and correspondance card
- set of 4 small designers stickers
The bonus you get with your order...
Posted in about the project
Tuesday, 16 November 2010 20:44
With all the orders, you will get 4 small designers stickers, as well as my own buisness cards & Harmonie interieure cards...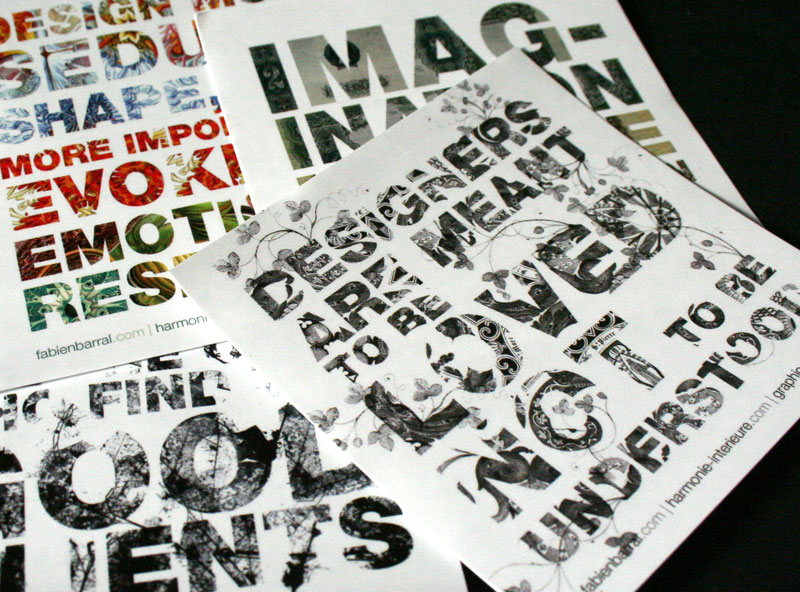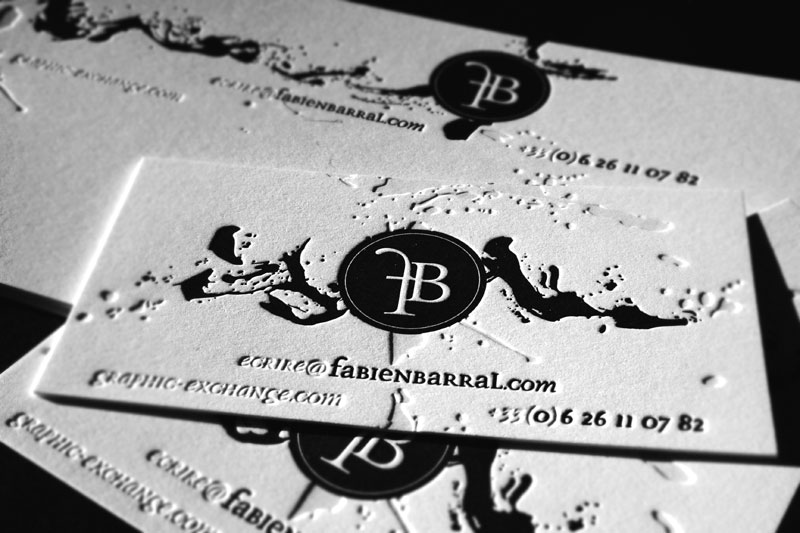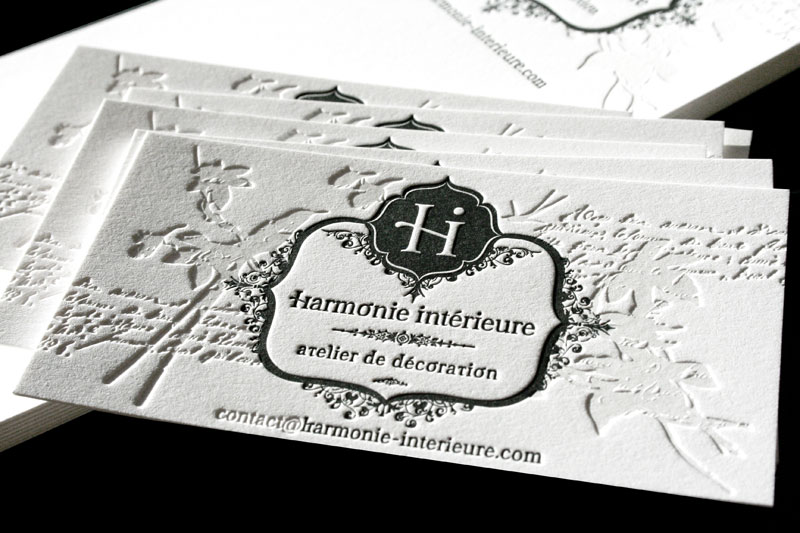 Posted in about the project
Monday, 15 November 2010 14:44
This is a project I have in mind for a long time, developping of the "graphic designers" sentences I done for posters or wall stickers into a book... But Marek, from letteramagica, after proposing me to design the coasters earlier this year, as me if we could associate each other to do a calendar. So I jump on the proposal...

The idea is to have a card for each month, each one printed in 2 colors, one black, one depending on the reason... Blues for winter, green for spring...

For the moment, we need money to produce it, the reason why this is just a presale web site. It will be only printed at 300 copies, and we need to sell first issue to pay the production costs... Do not worry, we will produce it anyway, even if it cost us some money, we want to have it in our hands as much as you do...

So, thanks for your support, and visit the site often to be updated...